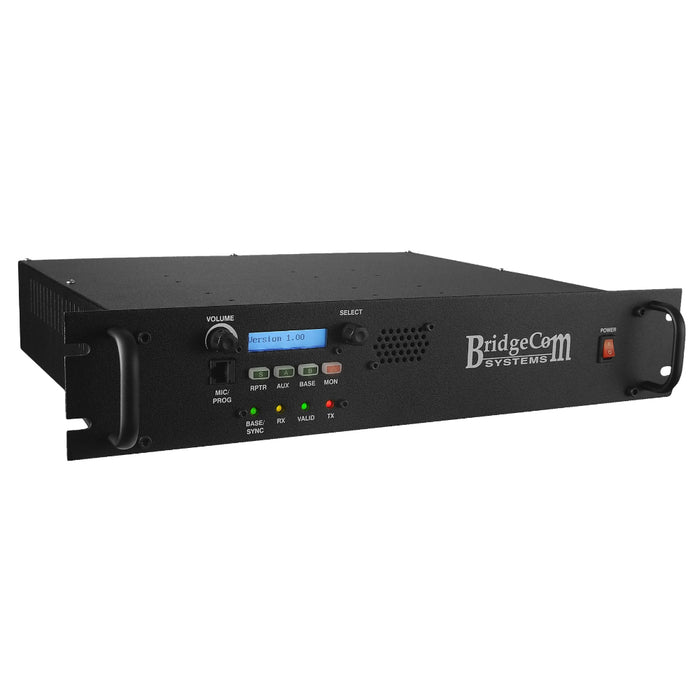 BCR-40U (400-470 MHz) UHF Repeater
BridgeCom does it again!

"I purchased my first BridgeCom unit almost two years ago after building a relationship with Ron and becoming convinced he would stand behind whatever purchase I made. 
Having need for a repeater for our transportation department there was only one option in my mind so I again contacted Ron for a UHF machine. Again, the support of the company and the quality of the product have been outstanding. Price, features, and support are untouched by others."-Keith K  
Packed with loads of RF power, this dual fan-cooled unit is one of the best sounding repeaters on the market.
Perfect solution for a primary or backup repeater for amateur radio clubs, A.R.E.S., and R.A.C.E.S.
Popular for emergency management personnel where reliability is a must.
Used for both commercial systems and government agency applications.
One of the best repeaters for GMRS! Want a built-in duplexer? Click Here!
The BCR Repeater provides a feature-rich, extremely reliable repeater/base station combo. 

Digital Mode Ready!

Also available with a UHF 6 cavity duplexer installed internally, with tuning and cabling.  Click Here!

Each BCR Repeater includes FREE Programming!  Just let us know the Tx/Rx Frequency, PL Tone In/Out, Station ID, Desired Transmit Output Power 
If you order one of these packages, don't forget to add your 

RF JUMPER CABLES

.
UHF (400-470 MHz, 70cm) - 40 Watts Continuous Duty
Designed and assembled in the USA
2 - year warranty
Windows® Based Programmer (Sold Separately)
Built-In 11.2A Power Supply
Battery Backup with Built-in Charging Circuit
Dual Cooling Fans
Front Panel Speaker
25-pin Accessory Connector
Adjustable Squelch
12.5 kHz/25 kHz Channel Spacing
Over-the-Air Programming and Maintenance via DTMF Tone Sequences
Built-in station CWID - Morse rate programmable 10-25 wpm
The MAX TX POWER when transmitting 40Watts is ~9 Amps
Quiescent draw is around ~250mA

FREE

Initial Programming
Read the BCR-40U reviews on eHam.net
Original price
$ 1,499.99
-
Original price
$ 1,499.99