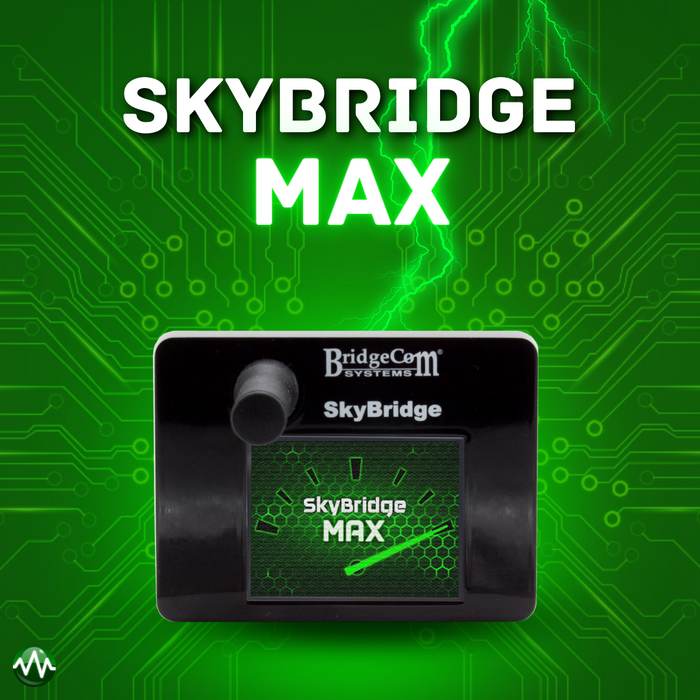 SkyBridge MAX
Like A Repeater in the Palm of Your Hand!
Reach all over the world without a repeater using the Skybridge MAX hotspot!  Connect your digital radio to this hotspot and talk from anywhere as long as you have an internet connection!  The Skybridge can be used in your vehicle, house, outside, on-the-go...just connect it to your phone hotspot or home internet and it works!  No repeater required! Every Skybridge comes with  FREE video tutorial in BridgeCom University! Plus a portable battery!
Works for DSTAR, DMR,  Fusion, NXDN, P25, M17, Cross-Mode.

Why Choose the SkyBridge MAX Hotspot?

🌐 Enhanced Range: Unlock extended communication reach with the SkyBridge MAX, ensuring you can connect even in challenging environments.
🔧 Easy Setup: Effortlessly pair your Anytone radio (or other digital radio) with the SkyBridge MAX Hotspot for a hassle-free setup, whether you're a seasoned ham operator or new to the hobby.
🚀 Cutting-Edge Technology: Stay at the forefront of hotspot technology with the SkyBridge MAX, designed for top-tier performance and reliability.
📡 Seamless Integration: This hotspot is engineered to work harmoniously with your current Anytone radio, making it the perfect addition to your ham radio setup.
How Does It Work?
Order Your SkyBridge MAX: Secure your SkyBridge MAX Hotspot today and prepare to enhance your ham radio communication.

Seamless Pairing: Easily pair your existing AnyTone radio with the SkyBridge MAX Hotspot for an extended communication range.

Enjoy Enhanced Communication: Experience the benefits of an extended range and seamless integration with your current radio, allowing you to stay connected no matter where your ham radio adventures take you.
Key Features:

🚀 Improved Web Interface Dashboard: Enjoy an enhanced user experience with improved functionality and a fresh visual facelift for our web interface dashboard.

📊 Dashboard Display Options: Tailor your dashboard with flexible display options, including the ability to show talkgroup names and caller details or hide kerchunks as per your preferences.

📞 Live Caller Display: Stay connected in real-time with a live caller display, making it easier to manage your ham radio communications.
📈 Detailed System Data: Access comprehensive system data for more informed decision-making during your radio operations.
🔄 Grouped Options: Experience an organized interface with improved grouping of related options, simplifying your hotspot management.
💻 Up-to-Date OS and Core Software: Our hotspot is built on a foundation of up-to-date operating systems and core software, guaranteeing improved reliability.
📡 Future Development Focus: Expect future developments to be based on this robust core, ensuring ongoing improvements and innovations.
🎯 Frequency Offset Storage: New units now have the ability to store frequency offsets in onboard EEPROM for optimal tuning, enhancing your radio's performance.
💼 Profile Storage: Store multiple profiles directly on the SkyBridge MAX, accessible from the web interface. Say goodbye to managing multiple .zip configuration files separately.
🌙 Overnight Updates: Stay current with overnight updates that keep your hotspot running smoothly.
🌐 Multiple DMR Networks: Built-in support makes it a breeze to configure and manage multiple DMR networks for versatile operation.
Elevate your ham radio setup with the SkyBridge MAX Hotspot, designed to provide unmatched performance, convenience, and future-readiness. Experience the next era of ham radio communication – order yours now and embark on a journey of discovery in the world of amateur radio!

Save: $ 97.00
Original price
$ 521.99
-
Original price
$ 521.99