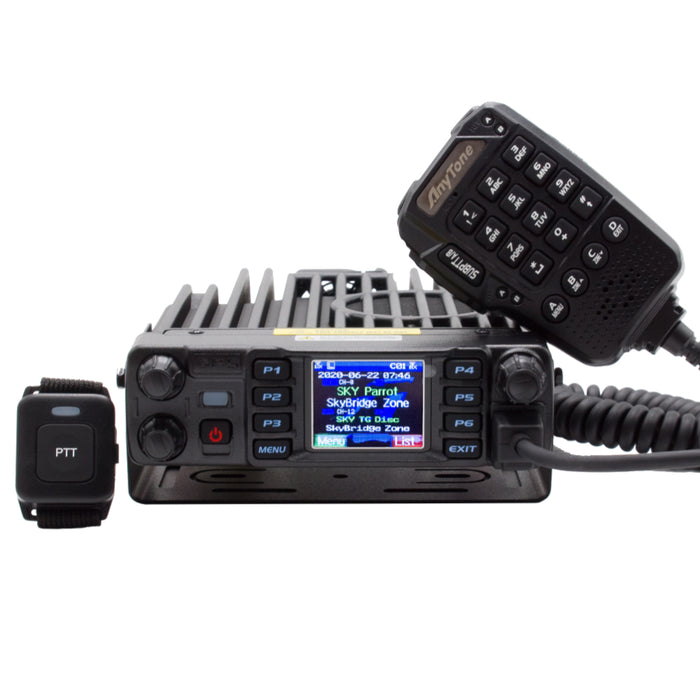 AnyTone 578UVIII PLUS Tri-Band Mobile Radio with $97 Training Course FREE!
Backordered !!! 1 week lead time !!!

Key New Features:

Analog APRS Location Data Receive and Transmit - See what location you and other operators are broadcasting from.  Digital and Analog
Air Band Receive - Listen to airplanes and air traffic. 
500,000 User Contact List Capacity - Fit all DMR users in your radio for years to come. 
Cross-band Repeat - This feature turns your radio into a repeater!
Download the product spec sheet HERE.
IMPORTANT: Be sure to check your firmware version and match it with the appropriate CPS programming file. To know which files you need, click here.
 --------
You Will Receive:

AnyTone AT-D578UVIII PLUS Tri-Band Amateur DMR Mobile Radio

($459.99)

Stress-Free Customer Service and Support 

Access to Our Exclusive Facebook Group 

BridgeCom University AnyTone Training 

($97-FREE with Radio)

Bluetooth Module Built-In and External Bluetooth PPT Key 

Handheld Microphone with Number Keyboard 

Mobile Mounting Bracket and Assorted Hardware 

DC Cable with Fuse

 

Programming Cable and Programming software download (Windows only)

 

GPS Antenna 

1-Year Limited Manufacturer Warranty 
Total Value: $556.99
Your Price: $459.99
*Estimated $15 UPS 2-3 Day Shipping*
Save: $ 97.00
Original price
$ 556.99
-
Original price
$ 556.99