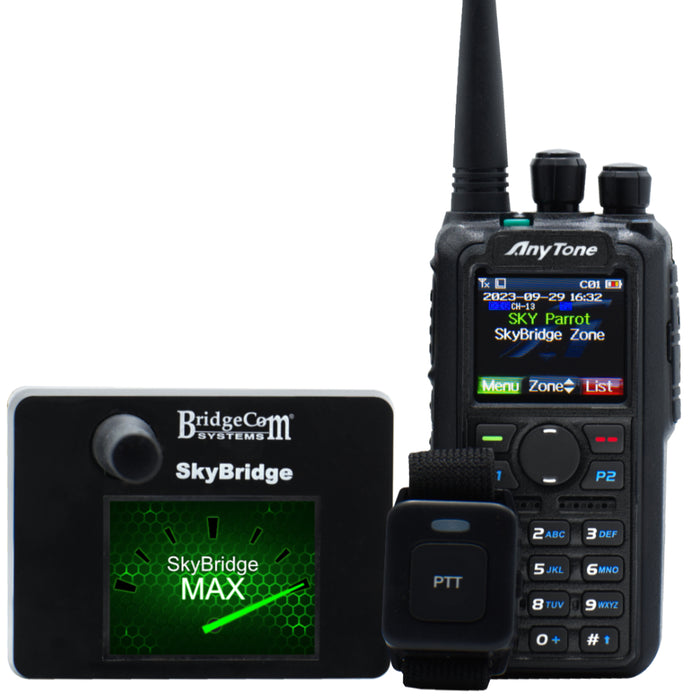 Plug and Play Package: AnyTone AT-D878UVII PLUS w/ SkyBridge Max Dual Band Digital Hotspot
"True plug and play! Plugged it in, turned it on and it worked. First QSO in 2 minutes success and it looks good too. Fast service. Company easy to deal with kept me updated at all times via email and phone. Great experience."   -Christopher Q., Plug and Play Package Customer
Instantly become a digital radio master with a personalized Plug and Play package!
The Plug and Play Package come pre-programmed so that it is ready to go right out of the box!  Just connect to your internet and you're up and running in as little as 5 minutes!

AnyTone AT-D878UVII Plus ($315) -- Sure to become your favorite radio! Amazing handheld and packed with features.

SkyBridge MAX Dual-Band Digital Hotspot ($425) -- A must for extending the range of your handheld to reach all over the world through the internet! 

Programming ($75)--Set up and ready to make contacts right out of the box!

BridgeCom University ($100) --Become a Digital Radio Expert!  Video training series to take you from Zero to Hero!
What to expect in the order process:
Fill out your information after clicking the Buy Now button
You will receive a confirmation email in your inbox
You send us your Callsign, DMR ID, and BrandMeister password.  
We will build you package and ship it to you. build times are 5-10 business days 
You will receive a tracking number for your order 
Expect the shipment to take 2-3 business days via UPS
If you have any questions, give us a call at (816) 532-8451
BUY NOW and Pay as little as $72/month through Affirm or ShopPay
Original price
$ 814.98
-
Original price
$ 814.98