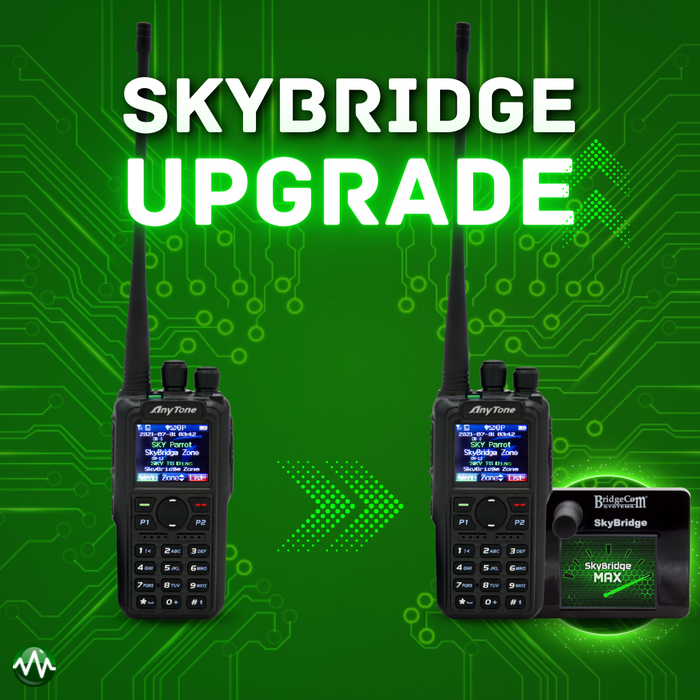 SkyBridge Max Plug and Play Upgrade
Your Existing Radio, with the Addition of a Powerhouse Hotspot!
Reach all over the world without a repeater using the Skybridge MAX hotspot!  We will connect your digital radio to this hotspot so you can talk from anywhere as long as you have an internet connection! 
The Skybridge can be used in your vehicle, house, outside, on-the-go and it works!  No repeater required! Every Skybridge comes with  FREE video tutorial in BridgeCom University so you can learn all about how your radio works and become a Digital radio expert! Plus every skybridge includes a portable battery!
Works for DSTAR, DMR,  Fusion, NXDN, P25, M17, Cross-Mode.

COMPATIBLE RADIOS:

AT-D868UV | AT-D878UV | AT-D878UV PLUS | AT-D878UVII PLUS | AT-D578UVPRO | AT-D578UVIIIPRO | AT-D578UVIIIPLUS
Why Choose the SkyBridge Plug and Play Upgrade?
📡 Seamless Integration: Our expert technicians will program your existing radio, like the 878UVII Plus and the brand-new SkyBridge MAX Hotspot to work together seamlessly, ensuring a hassle-free user experience.
🌐 Ultimate Convenience: Say goodbye to complicated setups. Your new hotspot will come preprogrammed with your existing radio, ready to use right out of the box.
🚀 Enhanced Performance: Experience the power of the SkyBridge MAX Hotspot, optimized for top-tier performance in your ham radio operations.

📺 BridgeCom University Training: Gain access to BridgeCom University's exclusive video training courses to master your SkyBridge MAX, valued at $97.

How Does It Work?
Purchase the SkyBridge Plug and Play Upgrade: Start by selecting the SkyBridge Plug and Play Upgrade service for just $499.

Send in Your AnyTone Radio: We'll provide you with instructions on sending in your current Anytone Radio (typically an 878UVII Plus).

Expert Programming: Our technicians will skillfully program your radio and pair it with the NEW SkyBridge Max Hotspot, ensuring seamless operation and convenience.

Enjoy the Power: Once the upgrade is complete, you'll receive your fully programmed Anytone Radio and SkyBridge Max Hotspot – a dynamic duo ready to elevate your ham radio experience.
Don't miss out on this exclusive opportunity to combine your trusted radio with the cutting-edge capabilities of the SkyBridge Max Hotspot. Upgrade to the SkyBridge Plug and Play today and discover the true potential of your ham radio setup!

Please call us at (816) 532-8451 for shipping instructions or submit a ticket here.
Save: $ 100.00
Original price
$ 600.00
-
Original price
$ 600.00