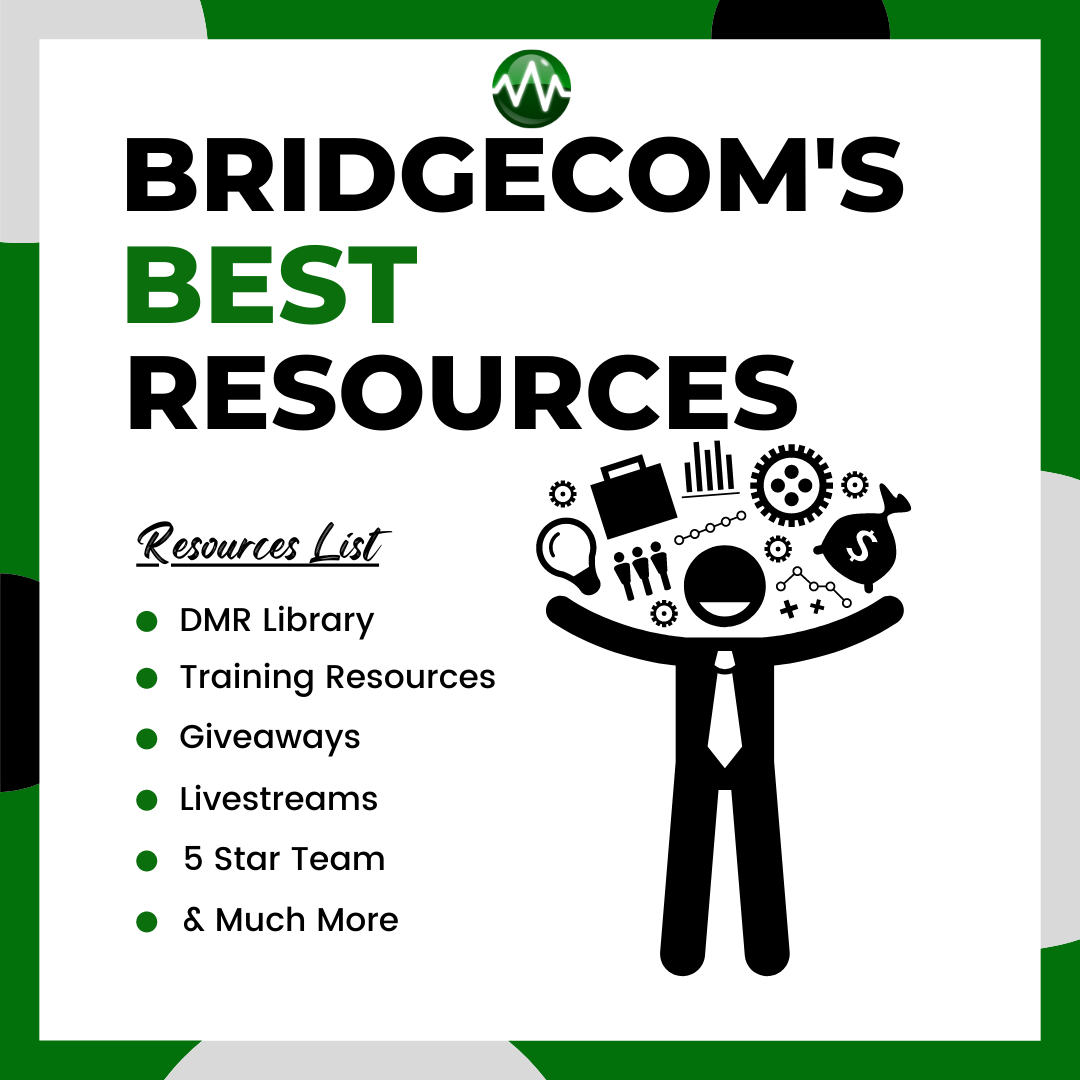 BridgeCom's Best Resources
When you make a purchase with BridgeCom, you are doing way more than just purchasing radio equipment. When you buy something from us, you are purchasing a complete experience with our team of professionals that are dedicated to helping you learn and excel with your new radio. We have tons of resources to help you, and a lot of other processes in place that will enhance your overall experience. Because there are so many ways to get value from our company, I wanted to lay our best resources out to make sure everyone is aware of all the things you can take advantage of through BridgeCom. 

1. Beginner-to-Expert DMR Courses

When you purchase a radio through BridgeCom, you get access to our library of beginner-to-expert DMR courses, so that you can truly learn how to use your new piece of radio equipment. With us, your experience does not end as soon as we make a sale. We also want to make sure you can successfully get everything set up so you can start making QSO's. This library of courses is called BridgeCom University, which you get for FREE for 30 days after your radio purchase. You also get unlimited access to BridgeCom University when you become a member of BridgeCom Plus, our membership program (I'll get more into this later). If that's not enough, we have plenty of Free DMR Videos on our YouTube Channel that our over 28,000 subscribers get to enjoy.

2. 5-Star Support Team
Another great resource with BridgeCom is the people that work here, which includes our 5-star support team. Give us a call or send us an email or ticket during the week and we will always respond as quickly as we can to help you with whatever problem you may be facing. Your problems are our problems, so we will do our research and follow up with you to help you move forward on your DMR journey. Our experienced techs have helped our customers figure out some of the most complicated DMR problems over the years, and we will do the same for you. Send us an email, give us a call, or submit a ticket, and see the difference when you work directly with the BridgeCom team.

3. Weekly Livestreams & AMA Sessions

Tune in to our weekly livestreams and AMA sessions to get to the most out of your DMR experience and your experience with BridgeCom. We currently host livestreams Wednesdays @11AM CST and AMAs Thursdays @11AM CST. Our host with the most, Cody W3AMG, walks you through a specific DMR topic on our Wednesday livestream, (Ex: How to Create a DMR Talkgroup) and goes through any questions you have on Thursdays AMA. Our audience can be anywhere from 200 people to about 500 people, and every person walks away with a little more knowledge each time. Our Livestreams and AMAs are a great, free way to engage with us and learn more about DMR (We also give away FREE stuff). Just make sure you calendar is clear on Wednesday and Thursday around 11AM CST. 🙂

4. Weekly & Monthly Giveaways

One thing you'll find about BridgeCom is we are always giving away free stuff. During these different types of BridgeCom giveaways, we are constantly giving away things such as codeplugs, 878UVII Plus' and BridgeCom Plus Memberships. We are also currently doing a Spring Giveaway where you can take home over $4,500 worth of DMR gear. Our Weekly giveaways occur during every livestream, and our monthly giveaway, like the spring giveaway, is released at the start of every month. You can find a full list of our giveaways here: BridgeCom Giveaways. Join in the fun and enter for your chance to take home one of our prizes. 

5. BridgeCom Social Media Community

BridgeCom is very active on all our our social media channels and we would love to see you engage with us online! Talk to other members that follow us on social media and engage in helpful DMR discussions. We are constantly putting out content that will aid you on your radio journey, plus you can talk to our team members along with other hams that have been in your shoes. Get the latest updates from BridgeCom on new events and new products, and stay connected with us and your fellow hams following BridgeCom. Check our different social channels below and give them a follow to see the different kinds of content you will see on your new and improved social feed!

Youtube - Facebook - Twitter - Instagram - TikTok (NEW) - LinkedIn

6. BridgeCom Plus

BridgeCom Plus is an amazing resource for Hams that want exclusive access to our team, along with other exclusive benefits. This includes things like access to an exclusive DMR radio community, Full BridgeCom University video library access, a private discord server, exclusive BC+ giveaways, and more.

BridgeCom Plus is also a great resource for actually purchasing DMR equipment, as both monthly and yearly subscribers can save big on any purchase. Monthly subscribers receive $15 OFF any purchase of at least $50 every month, while yearly subscribers can save $150 on any purchase of at least $399.

And if that wasn't quite enough, you also receive FREE Codeplugs when you sign up with a paid membership. Check it out with a FREE TRIAL and see how the many benefits of BridgeCom Plus can transform your DMR game. Head to our BridgeCom Plus page for a full list of benefits and to get signed up. 

7. BridgeCom Blog

The BridgeCom Blog is becoming more and more of a valuable resource with the more articles we add. We are bringing you exclusive articles, videos, and blog posts, each week that you will only find in the BridgeCom Blog. You can check out some of the other recent blog posts we've made here. Maybe you are needing a comparison of the Buddy and Echo Radios, or maybe you need to know how to export or duplicate your codeplug. The BridgeCom Blog is home to posts like these and much more. Look for our blog emails that come to your inbox every Friday. If you ever have an idea for us for a blog post, shoot us an email or post a comment, and let us know what kind of content you would like to see.

8. Resources Library

In addition to all the resources listed above, we actually have a place on the BridgeCom website called 'Resources'. This area of our site houses things such as our 'Download a Codeplug' Resource, Amateur Radio Testing Resources, and our Callsign Database Search Tool. You can find each of these under the 'Resources' drop down menu. You can also find that you can 'Become an Affiliate' in this area, and right next to that, you can check out our Referral Program. That's a lot of great resources packed into one place that not enough people utilize when you head to our website.

'Download a Codeplug' provides you with a user-generated codeplug database, our Amateur Radio Testing Resources provides great study material for your radio licensing tests, and our callsign database search provides a quick and easy way to look up callsigns. Become an Affiliate or join our Referral program so you can easily get rewarded for referring people to BridgeCom. Check out our resources tab on our website and see where you could take advantage using these various tools.

There are tons of ways we are constantly striving to provide value to all our customers and all those who interact with us. If you are utilizing 2 or 3 things on this list and are enjoying them, think about the kinds of value you will get when you start utilizing 7 or 8 of them. From the livestreams, to the giveaways, to the DMR Library, there is so much you can utilize within BridgeCom, you will want to make sure you are taking all you can from what we offer. Review the list above and check out all our resources, or give us a call if you have any questions about any of them and make sure you are getting max value out of your BridgeCom experience.