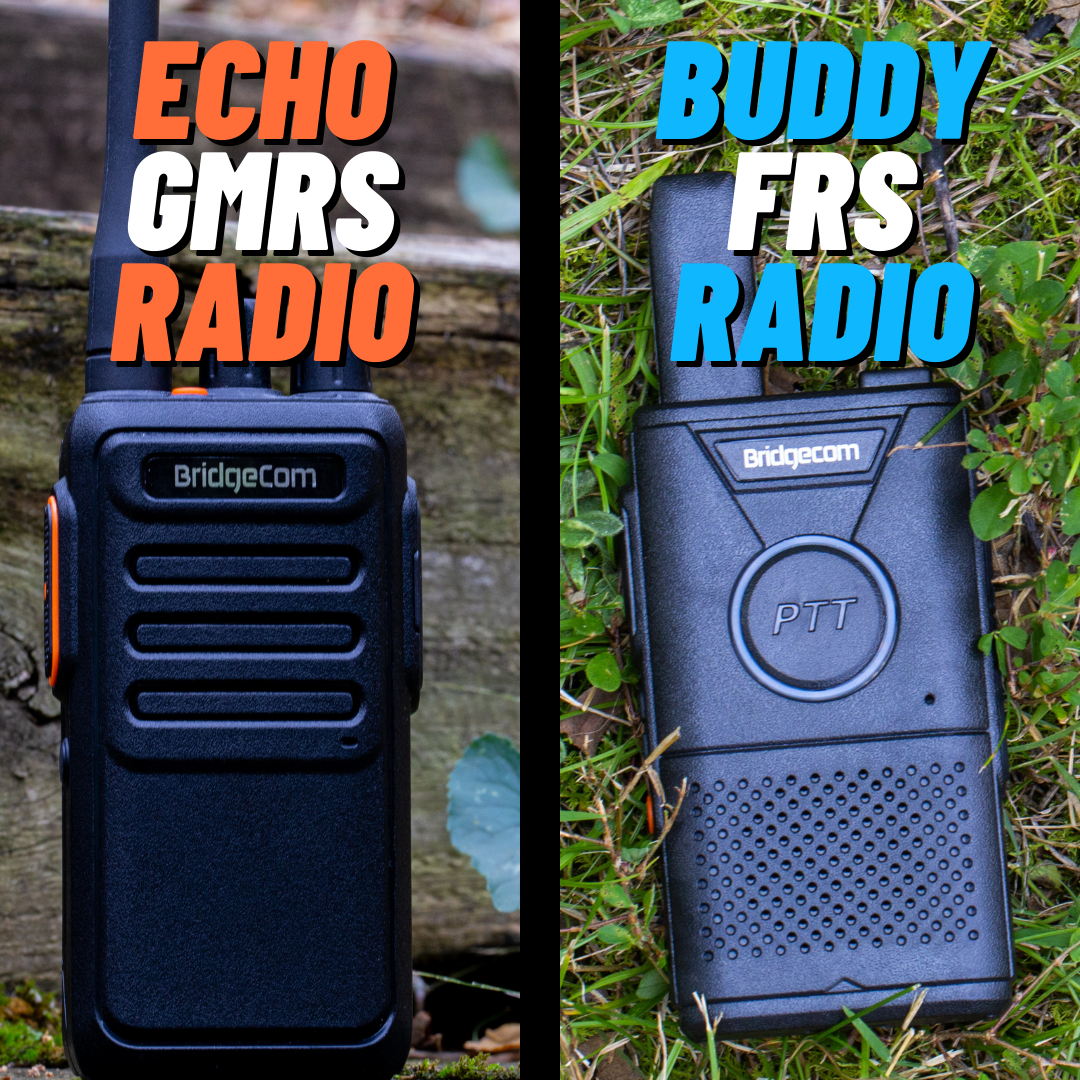 Echo GMRS Radio & Buddy FRS Radio Comparison
Two of BridgeCom's most user-friendly and effective radios are also some of the most unknown radios in our inventory. As the nicer weather starts to roll in, we wanted to shed some light on two great radios you can use this summer, the Echo GMRS Radio and Buddy FRS Radio. Both radios are easy-to-use, yet high-quality, and both are a great introduction to your radio hobby for children, grandchildren, or friends. 

The Echo GMRS Radio is a bit more advanced and does require a GMRS license, while the Buddy Radio is simple, but very useful in countless situations.

Now let's go into some of the features and benefits of each to see if one, or both of these radios are best for you.

The Echo GMRS Radio is easy-to-use, high-quality, and has fantastic volume and sound for easy listening.

The FCC does require a General Mobile Radio Service (GMRS) license to operate this radio, just as it requires for all GMRS radios. The GMRS license in the United States is issued for a 10 year period by the FCC and permits use by adults who possess a valid GMRS license, as well as any immediate family members. Learn exactly how to obtain your GMRS license by watching this quick video.

This radio boasts great battery life, durability, simplicity, and a professional quality that you won't find in cheaply-made similar products.

The Echo is also the more powerful of these two radios and can be utilized during any type of outdoor activity at longer ranges. It can reach a distance of around 6 miles in open water and a range of 2 miles in a typical neighborhood. Because it is a GMRS radio, it does have access to channels that a FRS radio does not have and can also be modified to increase its power and range, whereas a FRS radio does not have that ability.

If you are planning on using this radio often, possibly for daily use, the Echo Radio might be the better option for you, especially if you need a bit of a more potent signal. This radio also provides a more adaptability depending on what you need for your situation, so in this case, it would be a little more versatile if you wanted to make any adjustments to your Echo.

You can use your Echo Radio when you:

Need a powerful radio to communicate with your family or distant neighbors 

Are out at the ski slopes on a family vacation and want to keep track of your whole family


Traverse hiking trails that may be multiple miles long with a group that travels at different paces

Want to communicate across college campuses to coordinate large organizational events

Cruise the lake with your buddies on jetskis and boats and want to know where to meet up next

Prepare for uncertain situations such as a natural disaster or survivalist scenarios
The Buddy FRS Radio is simple, yet still very high-quality, with 16 different channels to choose from, and doesn't require a GMRS license. This is because this radio is an FRS Radio, which stands for Family Radio Service. FRS is commonly used for shorter two-way radio communications, typically though hand-held radios. No license required means you can literally take them out of the box and start using them for whatever you want (as long as what your doing is legal 😉).

This is one of the best things about the Buddy. It is about as easy to use as it gets. Charge it if need be, turn it on, select your channel, and start communicating back and forth with your other Buddy Radio. Like the Echo, it has a long battery life, uses push-to-talk to operate, and has a elegant and professional feel to it. Although not quite as strong as the Echo, the Buddy possesses a powerful range itself, and can ever transmit through trees and walls.

A Buddy Radio is handy for a variety of scenarios for anyone that can operate a simple FRS Radio. All you need is 2 Buddy Radios and a friend to talk to, and you are set for hours of entertainment and pleasure, or maybe hours of production and performance.

You can use your Buddy Radio when you:
Go on a camping trip to the lake down the road and want to keep in touch with your crew
Want to have some fun out in the backyard with your kids or grandkids 
Are out on the golf course and need to tell your buddies in the other cart you need help finding your ball
Are out fishing with the family and need to stay in contact when you head to the other pond
Want to swim down by the creek and want to keep track of the kids when they go exploring
Both the Echo GMRS Radio and Buddy FRS Radio deliver unique radio experiences that are perfect for almost any outdoor scenario. Whether it's the Echo's more advanced features or the simplicity and ease of the Buddy radio, every radio enthusiast can fill a clear need that the Echo or Buddy Radio can fill. It doesn't matter if your communicating during a natural disaster, or just playing with the kids in the backyard, these radios will be there for you no matter what scenario is in your future.