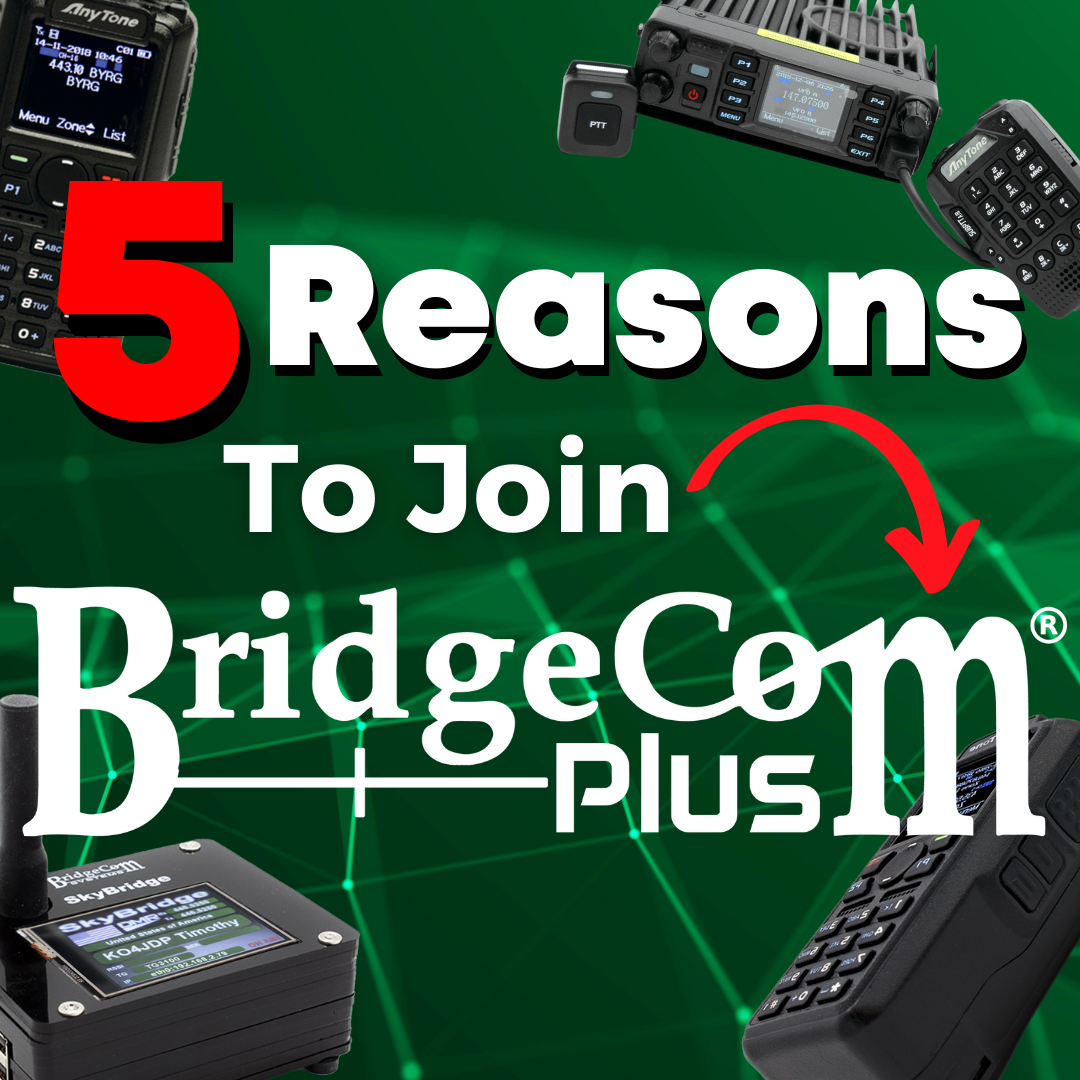 5 Reasons To Join BridgeCom Plus
Lately, Hams and other BridgeCom users have given us phenomenal feedback about BridgeCom University and the community that we are building. They told us how much they love meeting new people and the education that they are able to receive during our Youtube Livestreams. 
They did have one request: a focused platform for community engagement, available more than just once a week.
BridgeCom Plus is just that! An all-encompassing community platform for ham radio operators who want to be more involved with DMR to come to for discussion, debate, education, chatter, discounts, codeplugs and more!  The Community is focused on DMR Ham Radio discussions and debates, moderated by knowledgeable moderators and the BridgeCom Tech Team. 

Here are 5 reasons BridgeCom Plus is calling your name.

1. A True DMR Community

Many people search all over to find someplace where they truly belong. With a community like the DMR community, there are thousands of groups you can join across social media and online. But, there are only a few places where DMR enthusiasts can have an intelligent and thoughtful conversation, without any interruption or intrusion. The BridgeCom Plus Community is one of those few places. This community is only filled with DMR enthusiasts and knowledgeable moderators. We also have a specific set of rules designed to promote great conversation, and prevent arguments or rude comments. Your wait to join a great DMR community is over when you join BridgeCom Plus.
2. All-Access to All BridgeCom University Courses
How does exclusive all-access to one of the most comprehensive DMR libraries in the world sound? With BridgeCom Plus, you will get the kind of access you have been waiting for. Hours of DMR tutorials and videos await you to help with almost any DMR product in your hamshack or elsewhere. This library houses over 350 lessons with useful information for both beginners and experts alike. Need a little assistance setting up your new AnyTone HT? BridgeCom Plus houses all the videos you will need to help you with that. These courses are valued at $499 but are offered to you at a literal fraction of the price through BridgCom Plus. 

3. FREE Stuff (Codeplugs, Discounts & More)

When you sign up for BridgeCom Plus, you also sign up to get FREE stuff with your membership. Right now, when you sign up for BridgeCom Plus Monthly, you will receive a Super Codeplug ($50 Value) off the bat. Sign up for an Annual Membership and get an Ultra Codeplug ($100 Value). So you can get your money back within seconds of getting your membership.

This is not to mention that you get $15/month in-store credit when you sign up for our monthly subscription (min. purchase $49.99) OR Get $150 OFF any purchase in the BridgeCom online shop when you sign up for the annual plan (min. purchase $399.99).

If your thinking about making a big DMR purchase, it only makes sense to first enroll in BridgeCom Plus. You save a huge amount on your big purchase, and you get a FREE codeplug for joining? There's not many places providing this kind of value, but if that is not enough, I'll keep going☺️
4. Exclusive BridgeCom Plus Giveaways
If you have been following BridgeCom Systems for awhile now, you know we like to give back to the DMR community. You would also know that we do giveaways every single week, and we always provide big value. When you sign up for BC+, you not only have access to our weekly giveaways, but you will also gain access to our BC+ Bonus giveaway. This bonus giveaway is designed to provide immense value to our BridgeCom Community members that went the extra mile and joined BridgeCom Plus. We are always giving away something of high value. Last time we gave away an 878UVII Plus ($300 Value) to one lucky BC+ member. You can more than double your chances to win by joining BridgeCom Plus, and you could be walking away from our giveaways with a new radio, a new codeplug, and huge savings on your next piece of DMR equipment.

5. Access to BridgeCom Plus Exclusive Discord Messaging Server

Get in contact with our team with the push of a button through the BridgeCom Plus exclusive discord server. When you join BC+, our team gives you access to our exclusive messaging server. You can talk to your fellow hams online, talk to our team, or even report to us on anything you need. We are constantly in those discord channels engaging with the BC+ community, and if you shoot us a message, we will be sure to get back to you quickly. Our BC+ discord community is the first to know about new events or promotions coming to BridgeCom. We will let you know about any livestreams or giveaways on our calendar, and anything new that we are excited to share. Become the go-to person with all the latest knowledge inside the BridgeCom Plus Discord Server.

There are a multitude of reasons to be a part of the BC+ Community. Be part of the community you have always been searching for inside BridgeCom Plus. Talk to DMR enthusiasts, train on your newest DMR gear, and take home FREE stuff, all in the same spot. 

Thanks for reading, I'll talk to you in the BC+ Discord! --> Sign Up Here