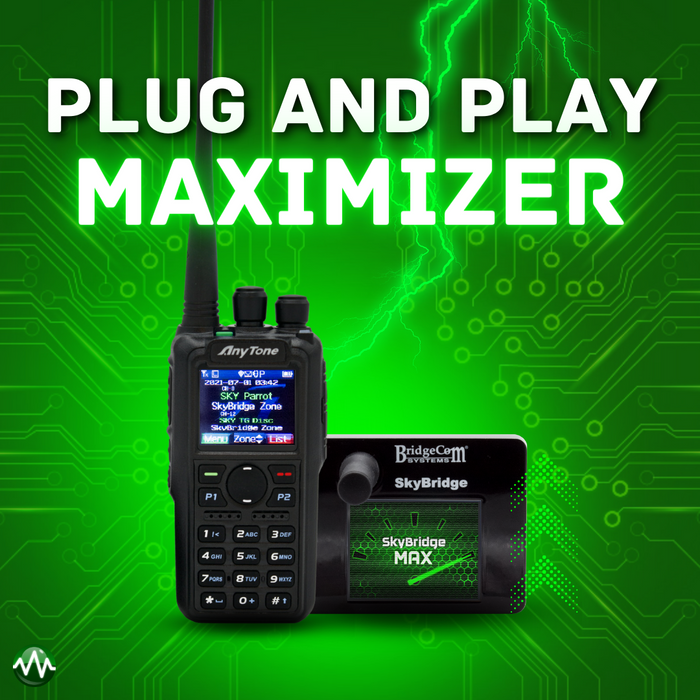 Plug and Play MAXimizer
Ready to transform your ham radio setup into a true powerhouse?
Introducing the Plug and Play Maximizer – an all-inclusive service that takes your existing Plug and Play Package to the MAX. BridgeCom's expert technicians will work their magic to transform your exisiting SkyBridge Plus Plug and Play Package into the SkyBridge MAX Plug and Play Package, perfectly synchronized and upgraded, ready to make you QSO dreams a reality.

Why Upgrade to SkyBridge Ultra Max?
🚀 Ultimate Performance: We'll expertly upgrade your SkyBridge Plus hotspot to the SkyBridge Max, ensuring cutting-edge performance for your ham radio operations.
📻 Seamless Integration: Your existing AnyTone Radio and SkyBridge Max Hotspot will be meticulously programmed to work together seamlessly, providing an unmatched user experience.
🌟 Latest Codeplug: Enjoy the benefits of our latest and greatest Codeplug, packed with all the essential features and enhancements.
How Does It Work?
Purchase the Plug and Play Maximizer: Start by selecting the Plug and Play Maximizer service for just $199.

Send in Your Plug and Play Package: We'll provide you with email instructions on sending in your current Plug and Play Package, which includes your SkyBridge Plus hotspot and existing Radio.

Expert Upgrades: Our technicians will work their magic, transforming your SkyBridge Plus hotspot into a SkyBridge Max, programming your radio and hotspot for seamless operation, and upgrading your package with the latest Codeplug.

Experience Ultimate Power: Once the upgrade is complete, your Plug and Play Package will be returned to you as the SkyBridge Max Plug and Play Package – a ham radio powerhouse ready to conquer the airwaves!
Don't miss out on this exclusive opportunity to elevate your ham radio setup to unprecedented levels of performance. Upgrade with the Plug and Play Maximizer today and unleash the ultimate ham radio experience!
Key Features:

🚀 Improved Web Interface Dashboard: Enjoy an enhanced user experience with improved functionality and a fresh visual facelift for our web interface dashboard.

📊 Dashboard Display Options: Tailor your dashboard with flexible display options, including the ability to show talkgroup names and caller details or hide kerchunks as per your preferences.

📞 Live Caller Display: Stay connected in real-time with a live caller display, making it easier to manage your ham radio communications.
📈 Detailed System Data: Access comprehensive system data for more informed decision-making during your radio operations.
🔄 Grouped Options: Experience an organized interface with improved grouping of related options, simplifying your hotspot management.
💻 Up-to-Date OS and Core Software: Our hotspot is built on a foundation of up-to-date operating systems and core software, guaranteeing improved reliability.
📡 Future Development Focus: Expect future developments to be based on this robust core, ensuring ongoing improvements and innovations.
🎯 Frequency Offset Storage: New units now have the ability to store frequency offsets in onboard EEPROM for optimal tuning, enhancing your radio's performance.
💼 Profile Storage: Store multiple profiles directly on the SkyBridge MAX, accessible from the web interface. Say goodbye to managing multiple .zip configuration files separately.
🌙 Overnight Updates: Stay current with overnight updates that keep your hotspot running smoothly.
🌐 Multiple DMR Networks: Built-in support makes it a breeze to configure and manage multiple DMR networks for versatile operation.
Original price
$ 199.99
-
Original price
$ 199.99