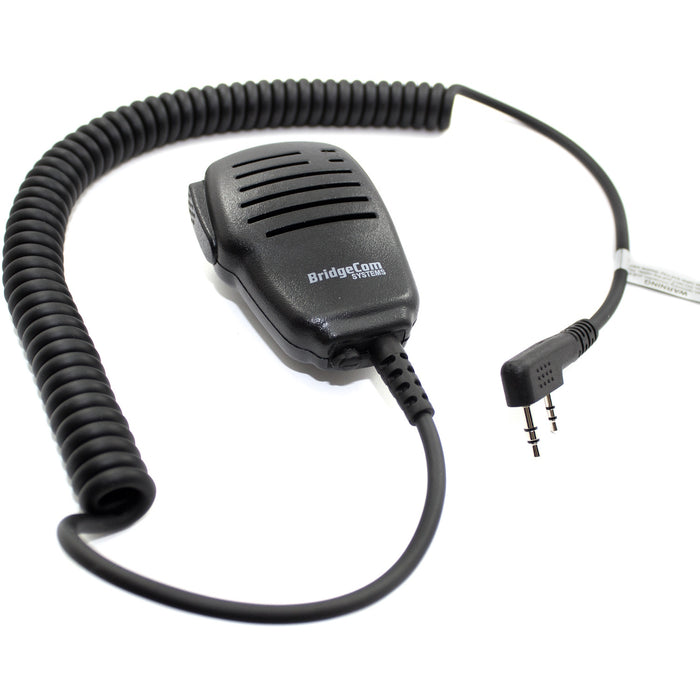 BridgeCom BCS-200 Water Resistant Speaker Mic
Save

0

%
Save %
Original price
$ 29.99
-
Original price
$ 29.99
BridgeCom Systems BCS-200 Speaker-Microphone with Kenwood Style plug. Built to withstand severe weather conditions. The BCS-200 is ideal for private security, construction, transportation, hospitality, as well as professionals. 
Decreased wind noise even in gusty, stormy conditions. This remote speaker microphone for two-way radios boasts a revolutionary wind porting feature that dramatically lessens background noise from high winds and other severe weather conditions. Audio can pass through the speaker grill even when the microphone port is blocked by water. The clarity of these microphones can help public safety professionals communicate more clearly. Good quality with a nice price can satisfy you.
Clip-on back of Speaker/Mic
Large Push to Talk Button
Black Coiled Cord
Water-Resistant
Clean Clear Audio
K1 Style Plug
Perfect for use with the BCH-220 & 270 Handheld Radio
Compatible Radio Models:
AnyTone Handheld Radio: 

AT-D868UV, AT-D878UV, AT-

878UVII Plus
BridgeCom handheld Radio:
BCH-220, BCH-270, D-500, D-30
Kenwood handheld Radio:
TK-3207,
 TK-240, TK-250, TK-255, TK-260, TK-260G, TK-270, TK-270G, TK-272G, TK-278, TK-278G, TK-340, TK-349, TK-350, TK-353, TK-360, TK-360G, TK-370, TK-370G, TK-373G, TK-378, TK-378G, TK-430, TK-431, TK-715, TK-2100, TK-2102, 
TK-2107
, TK-2118, TK-2160, TK-3100, TK-3101, TK-3102, 
TK-3107
, TK-3118, TK-3160
PUXING handheld Radio: 
PX-888
, 
PX-888K
,
PX-777, 

PX-333, 
PX-666, PX-328
QUANSHENG handheld Radio:


TG-K4AT

, TG-2AT, TG-45AT, TG-42AT, TG-22AT, TG-25AT
Linton handheld Radio:
LT-6288
, LT-5288, LT-2288, LT-3288, LT-3188, LT-2188, LT-3260, LT-2268, LT-3268 , LT6188,LT3288...
WEIERWEI handheld Radio:


VEV-3288S

,
VEV-V1000

,
VEV-6288, VEV-3288
BAOFENG  handheld Radio:
UV-5R, UV-3R PLUS
WOUXUN handheld Radio:
KG-UVD1P, KG-679, etc.
KST V6 handheld Radio
KS-8R handheld Radio
(Radio not Included)