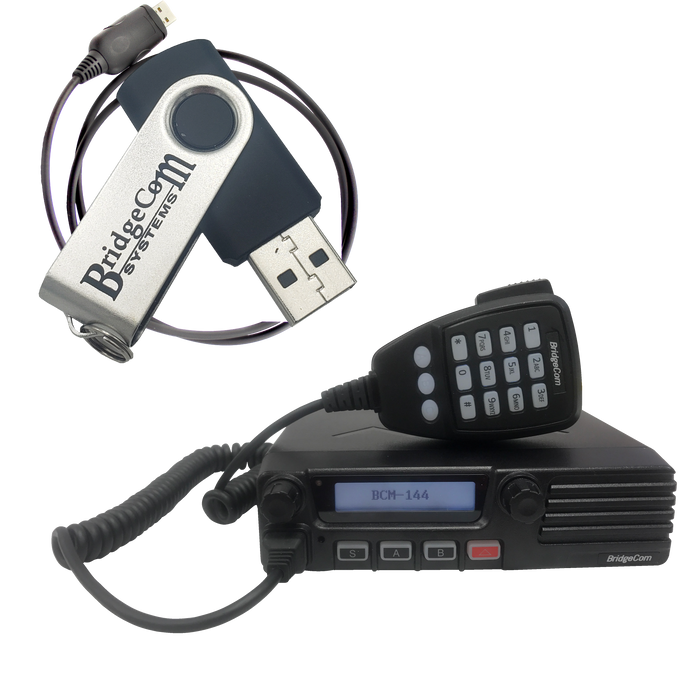 BCM-144 2m Mobile Radio w/Programming Kit
Save

0

%
Save %
Original price
$ 474.99
-
Original price
$ 474.99
Introducing the BCM-144 Mobile Radio for amateur radio. Do you want a commercial quality radio? Do you need a durable link radio? Do you need a mobile radio with the power, features and ease of programming you desire? Then the BCM-144 if for you!

The BCM-144 operates in 144.0-147.995 MHz (2m) range of the RF spectrum. The BCM-144 is built to commercial quality standards and packed with features including 50 watt Mitsubishi power amplifier, Alpha-Numeric Display, 4W Front Panel Speaker and 250 memory channels.  A great choice for a high quality mono-band 2m mobile that sports a 15 pin accessory connector that allows for unlimited versatility.
Add the programming kit for more great features like Alpha Numeric programming, data and easier programming.
Included in the package is the Radio, DTMF microphone, mounting hardware, and 12V power cord. Get on the 2m band today with a BCM-144. 
144.0-147.995 MHz Tx / 136.0-174.0 MHz Rx
High quality Mitsubishi RF Power Amplifier (RA60H1317M1A)
5W / 10W / 25W / 50W selectable
250 Channel Capability
VFO and Memory Mode
4W Front Panel Speaker
High Quality ± 1.5 ppm Frequency Stability TCXO
Alpha-Numeric Dot Matrix Display
CTSS/DCSS Enc/Dec
DTMF Enc
UHF Female Antenna Connector (SO-239)
User Selectable Squelch Level
Rear Panel Accessory Port (

Female High Density DE-15

) - For link radio or TNC
VFO Scan and Memory Scan
Memory Store and Delete
10W external Speaker output port
Package includes: Radio, DTMF Microphone, Mounting Hardware, and 12V Power Cord. Additional accessories and programming kit sold separately.
For more information, Spec Sheet, User Manual and videos check the Product Support page.