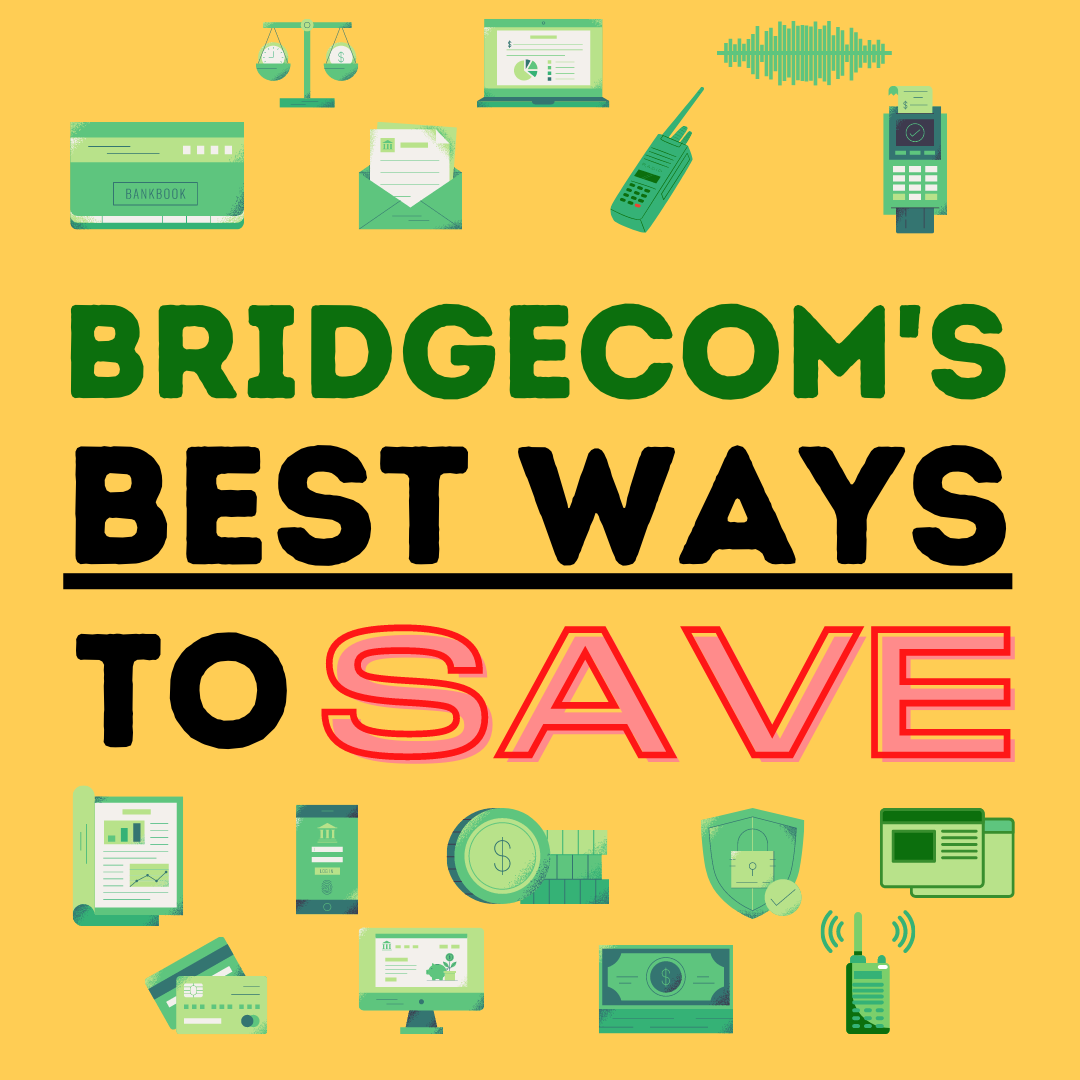 BridgeCom's Best Ways To Save


It's so important to be financially sound in today's day and age, but it seems there are always several factors working against us that keep us from getting there. Constant rises in gas prices and all-time high levels of inflation make us feel like we are always fighting an uphill battle. These things that happen around us are things that we can't control, yet these changes effect us directly. That's why it's paramount you control what you can control, so you can continue on being successful during your journey through life, especially on the financial side, even with all these negative factors at play. This blog post outlines every way you can save money through BridgeCom's various offerings, so you can take back some control and give yourself some financial freedom. Now let's get started saving you some money.

1. Sales 

Maybe the most obvious way to save through BridgeCom is through one of our sales. Our sales typically happen once every 1-2 months. We always offer good deals on many of our most popular products. This typically will include a savings of $50 or more on products like the 878UVII Plus, 578UVIII Plus, and SkyBridge Plus Hotspot among a lot of other products. It's always a smart time to shop during one of our sales! We recently completed our Bundle Sale and many DMR enthusiasts were able to walk away with our best products, for a fraction of the price.

2. Referral Program

Another way to save through BridgeCom is through our Referral Program which is open to everyone. This program basically pays you to refer other customers to BridgeCom. It may be a friend, family member, or someone in your ham club. No matter who it is, you both benefit big and save money by using this program.

Here's exactly how it works:
-You (Referrer) must be a customer
-Referred customer must be a NEW customer. It must be their FIRST order.
-Referred order must be at least $200+ to qualify
-Ensure all information is accurate so we can quickly verify authenticity
-Referred Order must be placed within 3 days of claim being made to qualify
-Referrer must not be in Affiliate Program
-Order must be placed through BridgeCom (Not through Amazon)

Reward:
-You(Referrer): $75 Store credit or $30 Amazon gift card.
-Referred customer: $30 In store credit on their NEXT order.

Just follow these simple steps and you secure $75 in store credit, and your friend receives $30 OFF their next purchase as well. Take advantage and walk about with a radio for a great price.

3. Giveaways/Contests

The best things in life are FREE! And that's exactly what you are signing for for when you sign-up for one of our giveaways or contests. We do weekly giveaways during our Wednesday BridgeCom University Livestreams, as well as huge monthly giveaways. During our weekly giveaways, we typically give out out our most popular and best-selling radio, the AnyTone 878UVII Plus, and an annual subscription to our exclusive membership program, BridgeCom Plus. Enter our weekly and monthly giveaways for tons of chances to win FREE gear every year. You can find all our giveaways and more information on them on our giveaways page.

We also conduct QSO Contests in which our most recent Grand Prize Winner took home a Plug and Play Package, a annual membership to Bridgecom Plus, and an Ultra Codeplug. As you can see, we love giving away FREE equipment so more people can access the world of two-way radio. Make sure you enter each week for your chance to win.

4. BridgeCom Plus

A BridgeCom Plus membership provides a path to savings that non-BridgeCom Plus members will not get to utilize. If you haven't yet locked in a BridgeCom Plus subscription, now might be a great time to do so. Right off the bat, BridgeCom Plus gives you access to the Super Codeplug or Ultra Codeplug after joining the membership. That's already a savings of over $150, for just a $15/month membership. Even more savings are coming your way, as BC+ members receive early access and extra savings on many of our various sale deals and workshops. That's a lot of money saved. Read more into the savings and benefits you can get with BC+ by heading to our BridgeCom Plus page. 

5. B-Stock Products

B-Stock products are one of my favorite ways to save people money when shopping with BridgeCom. There is so much value to be had with B-stock items, that sometimes I think they get a bit overlooked. If you are unfamiliar with B-stock products, B-stock are customer returns that are not related to the condition or performance of the radio. This means that someone returned the item because they purchased the wrong item, or no longer needed it, etc. Then we take that return, our tech team ensures it works properly, and then we sell it to you for less, saving you around 15% on our best products. All B-stock products are inspected and tested by our technicians as followed:
Tx power on turbo, Rx audio functionality (tested with monitor), Radio audio (beep/alarm), GPS lock within 5 minutes, Verify that all box contents are included, Firmware is updated to latest stable version on date of inspection.

With products like the 878UVII Plus, the 878UV Plus, and the 868UV, there is a lot to love in our b-stock collection. Make sure to check into our B-Stock collection often, as products are limited and often vary. Check out the B-Stock Collection here! Or give us a call to see what's available: 816-532-8451.
6. Affiliate Program

Do you consider yourself a high-level ham? Are you a part of a ham club? Do you have a large network or social following? 

You may have just stumbled into the perfect way to earn and save money through BridgeCom. Our Affiliate Program allows you to cash in just by sharing a link. As soon as someone uses your link to make a purchase, you get 10% of that sale. The more people that use your link to buy something, the more $$$ you make. Pretty easy right? 

Here's the exact steps:

Head to BridgeCom's Affiliate Program page.
Click the blue button to create your affiliate account.
As soon as your signed up and approved, we will give you a link so you can start sharing it.
Every time someone uses your link and buys an item from our site you earn 10% on every sale!
Easily make extra money by using these steps. Here's some quick tips on what to do, and what not to do when promoting your link.
How to Promote Us:
Send your affiliate link to your email listings
Make videos on social platforms & include the link in them
Post about us on your social media accounts
Write about us in your blogs
How Not to Promote Us:
Do not falsely advertise our products or company
Do not use your affiliate link for your own purchases
Do not misrepresent our brand
Do not advertise false offers on our products
7. BridgeCom Product Bundles

A BridgeCom Bundle is a great way to package items you want into one giant deal. All our bundles deliver the most bang for your buck, and that's why our bundles are one of BridgeCom's best ways to save. Buying items individually can be an effective way to get what you need, but if you really want to save, packaging multiple items together will always give you the maximum value for what you are paying.

8. Magazine Offers

BridgeCom's best ways to save even extends to print media, in QST magazine! If your a long-time subscriber, then you have probably already seen this offer, or taken advantage of it at some point. I won't spoil the surprise, but know know there is free products involved. Look for the BridgeCom ads within QST magazine, and look for the discount code on the ad!

9. Events

We carry good deals with us everywhere we go, and that includes when we travel across the country to attend important ham events. This includes events like Hamcation and Hamvention, where we always have a booth set up, with giveaways and deals on deck. If you stopped by our booth at Hamcation, you got a chance to see some of the exclusive in-person deals we offered to all in attendance. With Hamvention coming up around the corner, it sounds like we'll be able to offer some similar deals you can take advantage of. If you happen to be in attendance, be sure to stop by and say hi, and remember that you have the opportunity to take advantage of one of BridgeCom's best ways to save.

Now that you know all of BridgeCom's best ways to save, it's time to start making the most of your knowledge. Following the steps above present multiple opportunities so you may never have to pay the retail price again. Save money on the products you were already going to buy, and start controlling the things you can control, even with all the factors working against you in today's world.