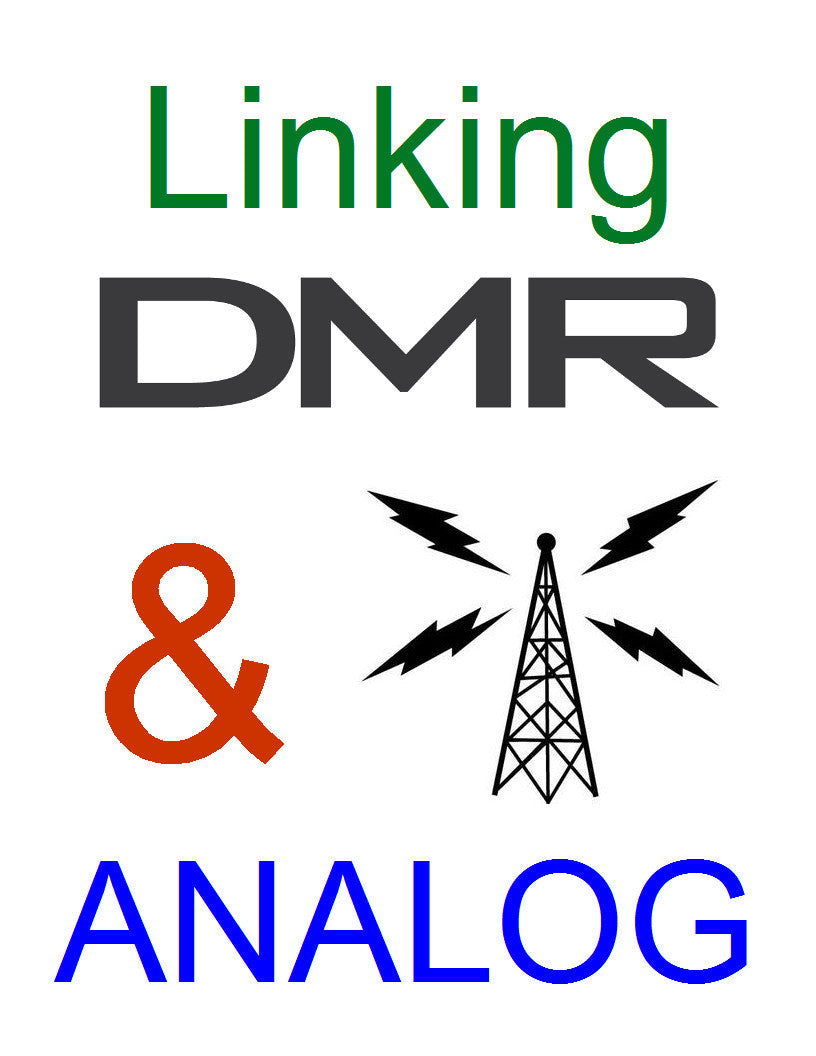 Analog and DMR Talk Together
Newsflash: The world is going digital! I know, I know, this is not really a revelation. We all carry around a smartphone, tablet or PC that communicates over digital LTE or Wifi. The two way radio is not much different with all the digital communication options and even some LTE radios. Yet analog radio is not dead and in many ways is thriving in the commercial and amateur radio worlds. So the question becomes, what if I have both analog and digital radios, then what? There is an option to use both and I'd like to tell you about linking digital, specifically DMR radio and analog.
First, a little background to understand how DMR became available. There is a commercial radio FCC mandate that all repeaters be narrowband, 25 kHz compliant. This meant a repeater would have to be run in 12.5 kHz bandwidth. The big manufacturers took advantage of this opportunity by introducing Digital radio, including DMR.
Digital radio takes the narrowband mandate one step further by going super narrowband, 6.25 kHz. Many commercial repeaters were replace with a narrowband analog repeaters or super narrowband digital repeaters, like the MotoTRBO DMR repeaters. What's super narrowband you ask? Through digital modulation the repeater can be run in 6.25 kHz of bandwidth, allowing two repeater calls to take place in 12.5 kHz of allowed bandwidth.
If your mind is racing, probably because this explanation is just scratching the surface, then let me try this. What used to be one repeated call in 25 kHz can now be up to four repeated calls in the same space! Crazy right? Note: amateur radio is still 25 kHz and the FCC has made no push towards narrowbanding the ham bands.
The amateur radio world has latched onto the DMR technology and found new ways to communicate using Radio Over IP (RoIP). Using the c-Bridge (MV-DMR) a MotoTRBO DMR repeater can be linked to other like repeaters all over the world, lots and lots of repeaters. Unfortunately this is a separate communication network. It's kind of like adding another band, but without the ability to link to other bands. 
Back to the problem, which is getting the new DMR (digital) radio to communicate with the analog radio. The solution is an RoIP gateway that can convert the digital audio to analog and be connected to the MotoTRBO DMR repeater and an analog RF source. 
Have you heard of the MVi-1 RoIP Gateway? It's OK, most folks have not. It contains what is needed to connect to the DMR repeater and convert the digital audio into RoIP which is routed through the internet. The receiving RoIP gateway will take the data and convert it to analog audio for the repeater to repeat. This all happens in milliseconds with just a little equipment. PROBLEM SOLVED!
If you are a commercial or amateur repeater owner and need to link DMR to analog, analog to analog or DMR to DMR, the solution is available.
If you would like more information about the MVi-1 or have any questions about linking repeaters, contact the folks at BridgeCom Systems, 816-532-8451. They manufacture the MVi-1 and many other products.