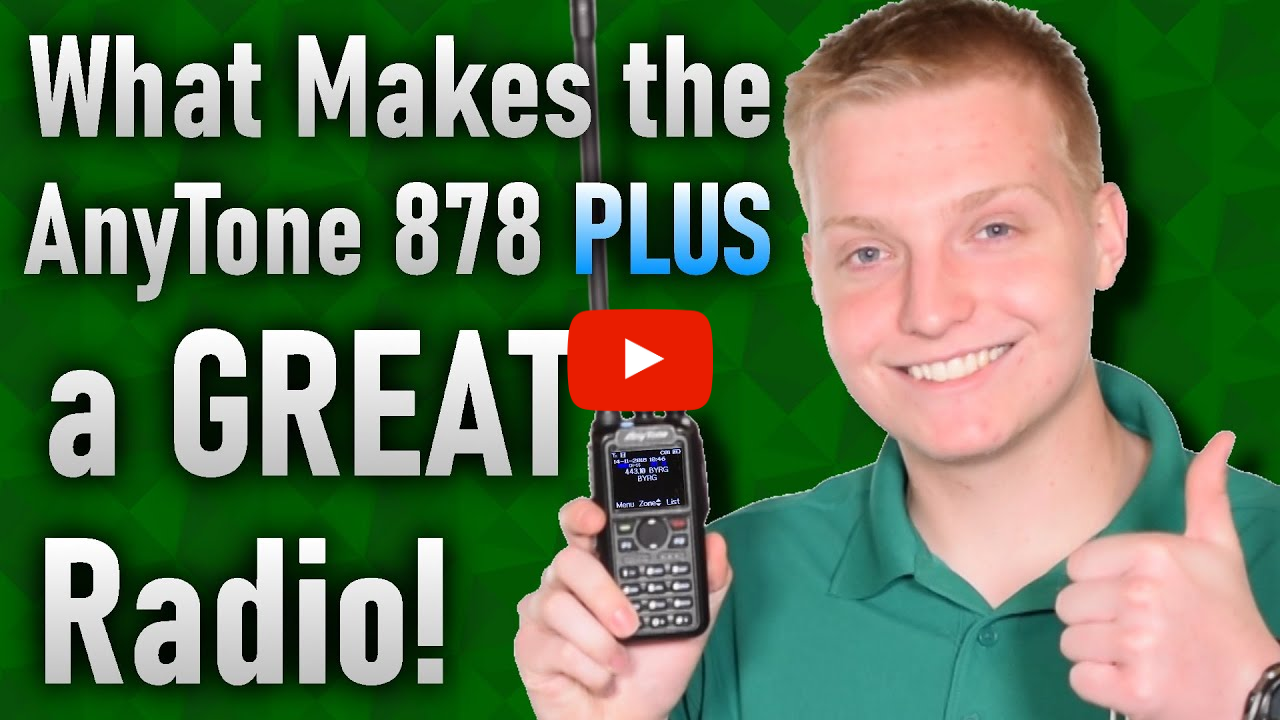 Why do so many choose the AnyTone 878 Plus?
 Daniel, NØREY, explains all the key benefits that makes the AnyTone 878 Plus a trustworthy radio.
Want to stay updated on all things BridgeCom Systems? Click the links below to join our Offical Facebook Group and subscribe to our YouTube channel.
Transcript:
Hi, I'm Daniel NØREY with BridgeCom Systems. I'm just gonna give you a quick overview of why you would wanna get an AnyTone AT-D878UV Plus Bluetooth Dual Band DMR HT. This radio was made for the amateur radio market but is part 90 certified for commercial users as well. So this is a great radio if you're a ham that wants to get a top of the line Dual Band DMR HT with Bluetooth or if you're a commercial user looking for a low-cost Dual Band DMR solution. This radio is Dual Band UHF and VHF and also dual-mode, analog and DMR. So you can have one radio for almost every use. This radio sports a stout six watts of transmitting power on UHF and seven watts on VHF and it will even go down to 200 mW for use with a DMR hotspot at low range.
The radio has excellent commercial grade build quality, so you don't have to worry about taking it out with you to events or outside or even dropping it we've dropped it and it doesn't even scuff. It's that sturdy. It also has IP54 water-resistant, so you can take it with you in the rain or any kind of adverse conditions where there may be water or mist or something like that. The radio also has an extremely good 3100 mAh battery combined with the radio's extreme efficiency, the battery lasts a long time. We've had user reports that the battery lasts days or even weeks on a single charge. So one of the defining factors of this radio is actually the Bluetooth functionality, here I've got the Bluetooth push to talk button. That means you can actually connect this radio to any Bluetooth audio device and the PTT button simultaneously, including headsets, car stereos, hearing aids, and basically any other Bluetooth audio device and talk hands-free with the push to talk button. One of the other great features that this radio has GPS and analog and digital APRS, so you can transmit your location for both emergency services purposes and recreational use. The radio also has roaming capability, so you'll automatically change channels as you drive down the road to the strongest repeaters signal. The radio can store up to 200,000 contacts right now you can have the entire in your radio at one time. And so that way when you make a qso with somebody instead of their DMR ID showing up, their call sign will actually show up instead. The radio has an excellent receiver with crystal clear audio and a very clear loudspeaker. so you can hear things in noisy environments, such as in your car at an event like a ham show or something like that, and be able to hear the radio just fine. It's always better to have a loudspeaker that you can turn down than a quiet speaker you can't turn up. We've had many reviews that say this is the best thing about this radio is the just ultra-loud, ultra-clear speaker. Some users have even reported that it has clear audio than comparable radios at twice the price. The radio also comes with a one-year factory warranty. And if you ever need to use the warranty for any reason, you'll be dealing with us right here in Kansas City, Missouri, as opposed to having to ship your radio halfway across the world to China. The 870 Plus comes with everything you need in the box including the radio, antenna, battery, button, drop-in charger, wall plug, a free programming cable and free downloadable programming software that you can download the most up to date version from our website. One of the best features of these Anytone HTS is the ultra-intuitive, easy to use programming software that these radios come with. Being that the software is so easy to use, we actually fully supported and I've made over 75 tutorial videos, showing you everything from getting the radio out of the box to putting the CPS, putting the programming software on your computer, programming it up, building and downloading a code plug and everything in between so, we can get you from beginner to expert, super easy. We also heavily support this radio with our own code plug database filled with user-submitted code plugs from around the United States and even different parts of the world. Not only that, but there is a large group of active users in our private Facebook group and other groups around the web dedicated to supporting and talking about this radio. So, if one of them can't answer your question or help you out, you can always contact one of our expert American technicians right here in Kansas City and they'd be happy to answer your question via email or by phone. The AnyTone 878 Plus has over 75 five star reviews so I can safely say this radio is well-loved by its users, and it's one of the best DMR radios on the market today. So, in conclusion, if you want to get on DMR fast and hassle-free with a top of the line, Bluetooth Dual Band DMR Radio, then this is the radio for you regardless of if you're just starting on DMR or switching from another radio, the AnyTone 878 plus with Bluetooth is the radio for you. If you'd like more information, please click the link somewhere around this video to learn more or to order one or contact us at contactus@bridgecomsystems.com or by phone at 816-532-8451. Thanks and I look forward to fulfilling your order 73.