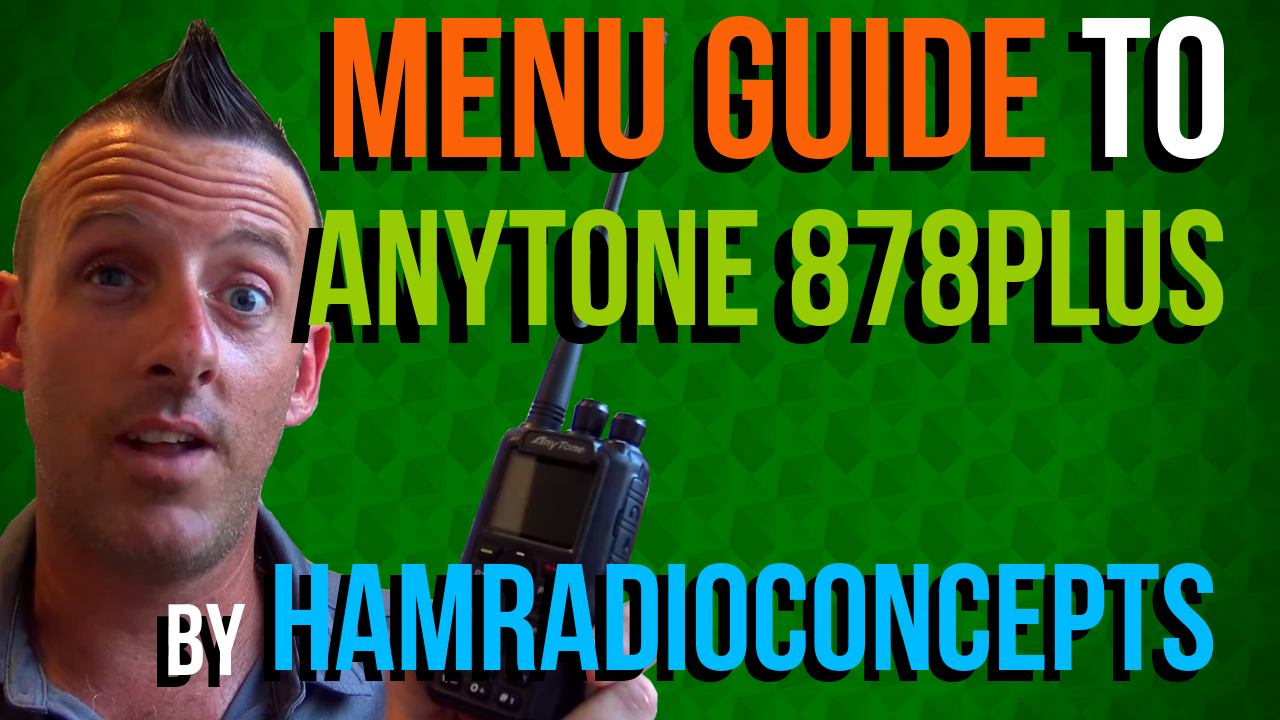 Menu Guide to the AnyTone 878 PLUS by HamRadioConcepts
Hello everyone, welcome back. KJ4YZI HamRadioConcepts. And this is the AnyTone AT-D878UV PLUS. 
All right, so let's look at the radio a little bit more and see just some of the functions that are in the menu. Is this thing in Chinglish, like all the other DMR radios you used, is it impossible to figure out what each thing means? Well, let's find out. So if I go into Menu, okay? Main menu, it's a little icons here, so you have talk group, SMS, Call Log, your Zone, Scan, Roaming, Settings, Record, I guess you can record QSO? GPS, Digital Monitor, Bluetooth. Okay? That seems pretty easy. 
Well, let's say I want to join a talk group or type one in right into the radio. So go to Talk Group, hit select. So I have, let's see, New Contact. So input ID, input the name, input the address, call sign, state, country, different rings, and save. That's pretty easy to do it that way. Let's go down here to short message system, which would be your text messaging. And that's something I really never did on DMR. Leave a comment, has it come a long way, because it seems like the original radios, when I tried DMR, would never text. I think that's a really cool thing to be able to do, if you're texting over DMR, but I guess a lot of people don't want to use it. Because I never heard a lot of people talk about it.... in here. So you have, let's see, radio set. Your beep, backlight, pretty clear on how they put this. Light timer, channel name, key locks, the old [BOW 00:01:37] phones would be like A-P-R-T, light, automatic, power, timer, radio, light. Some weird thing. This is pretty much laid out easy. Transmit timer, max volume level. So I guess there's an individual volume level for the front firing speaker and the ear bud. Enhance sound, interesting. Language, menu exit time. I know what that it, it's if you just hang out here and don't do anything in the menu it defaults back to the start screen. Start display, background, channel font color, lot of stuff to change in here. Call ring, frequency step, that should be automatic squelch level. Power save, Vox, Vox delay, scan mode, mic level, my gosh. FM radio, all right, we got an FM radio in here, sweet. I don't know if I can set the FM radio. Okay, well, we'll figure out how to put in a local radio there later. Anyways, so it's got a lot of stuff in here. Device info. I got to set my radio ID, I haven't done that yet. I can name the radio, the model, D878UV. Frequency range, so it is locked to FCC band plan, 420 to 450 and 144 to 148, so it's not global unlocked and wide open to use on GMRS or other ones. And that's due to what's happening in the FCC, and you should keep it that way, but a lot of the China radios at first came out, they weren't locked. Firmware version, on this video's, 1.13. Hardware is version 1. Radio data version 1. Last program date, August 6th, 2019. This thing was programmed in the future man. It's not even August yet, right now it's July 19th. So yeah, serial number, wow, Bluetooth software version, all that stuff. 
This is pretty advanced man.