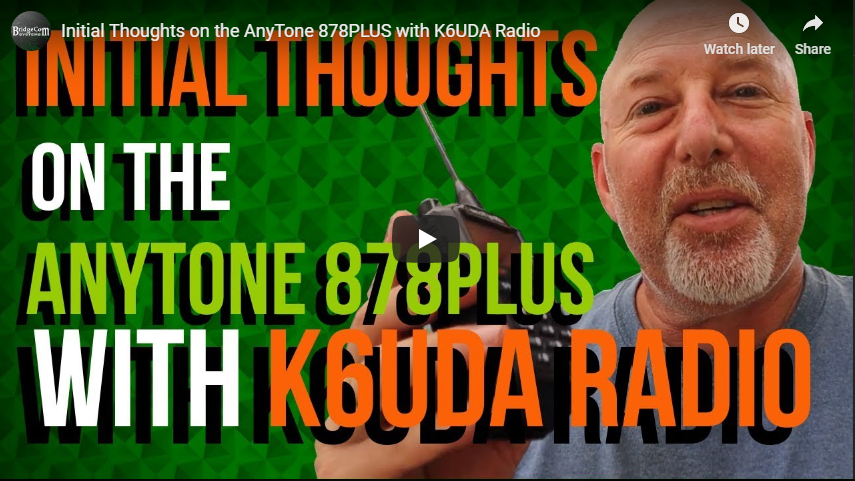 Initial thoughts on the AnyTone 878 PLUS by Bob, K6UDA.
This time on K6UDA radio. This one comes from BridgeCom. The AnyTone 878 with uh... It's a DMR radio with built-in GPS.
I've got the radio configured with a belt clip on it, the battery on there. It is, with the belt clip on, it is a little bit more thick in the hand than the other radios that I've used. But hey, again, 3100 milliamp battery, this thing's going to last all day long, so I've got no complain about that.
When I first did turn this thing on, it did go into a memory mode. I was able to put it in a VFO mode and enter in a frequency from the keypad, which was a pleasant surprise. I've turned the radio on and I have it set up here on DMR to my openSPOT, Parrot.
Let's give this a shot, "K6UDA on Parrot."
Let's give this a shot, "K6UDA on Parrot."
What I did is, make a very small, simple codeplug to kind of test the thing. And I took this radio with me to Reno this last weekend, and I used it as my daily driver.
I have to say, I am impressed, more so than any of the other DMR radios that I've used.
I tested this thing on analog, which was very important to me and the audio reports that I got back were as good, side by side as my a $400 FT2. And while I was in Reno this weekend, I was able to talk to several guys on the local SNARS group on DMR.
Very, very impressed. It had good range, good everything. I talked to guys on on simplex over there on 14652. Not bad. I was very impressed.
It works much like any other DMR radio you've got. And I'm not going to go through all the specs of this. I will do that after I've had some time to dig into this thing.
Now I have reviewed several other DMR radios, as you guys may have seen in the past. The point of difference that I call it, with BridgeCom is they are a USA company. They are in the business of teaching us how to use a DMR radio, and how to program these things. Since I got this, I have been on their email list. It's kind of a daily email list with all kinds of videos and tutorials, tips and tricks, and it is really, really thorough.
These guys, they care about us and they want us to be happy with the radio and to thrive and, well, you know what? Sell more radios and be happy on DMR.
Anyway, guys, that's all I've got today. I'm Bob K6UDA and yeah, I'm out of here. 73.