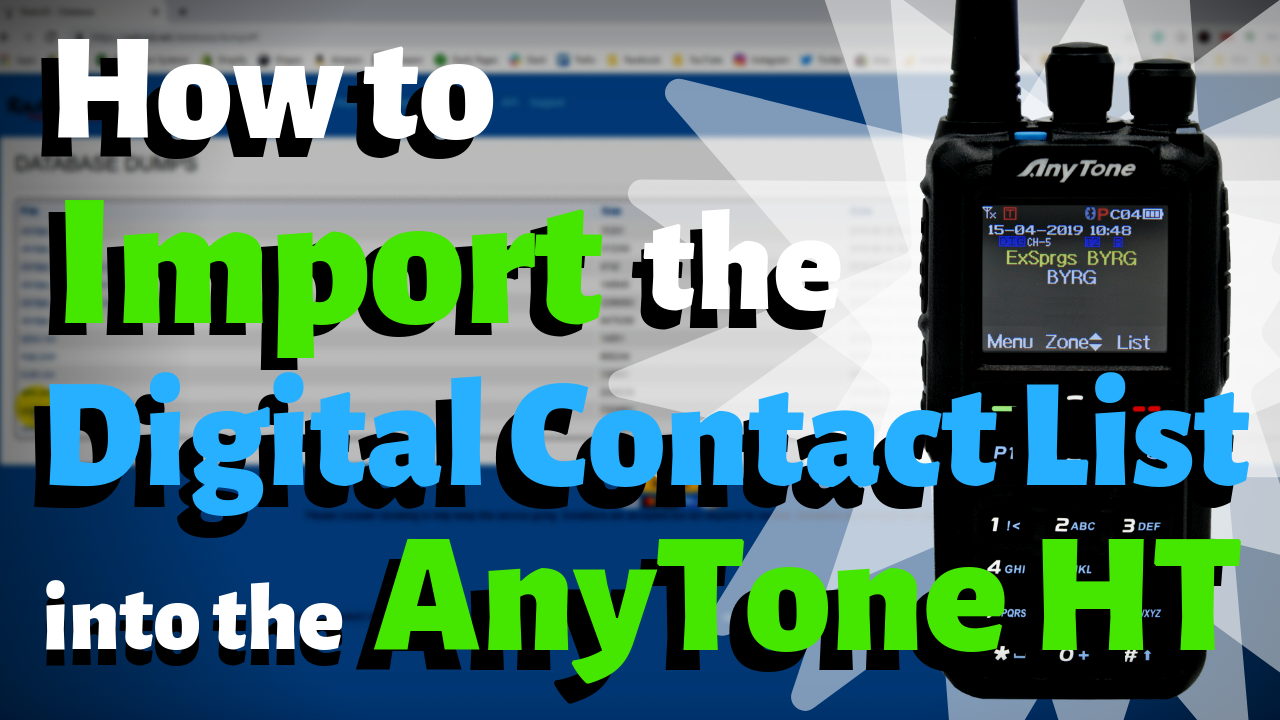 How To Import the Digital Contact List
Want to stay updated on all things BridgeCom Systems? Click the links below to join our Offical Facebook Group and subscribe to our YouTube channel.
Transcript:
Hi everyone, this is Cody from BridgeCom Systems. In this video, I'm going to be showing you how to update the digital contact list in your AnyTone. There's a variety of reasons you might want to do this. If you have a DV Mega plug-and-play package, you might want to update to the latest contact list. If you're creating your own hotspot and radio combination, you might want the latest contact list, or if you just want it for your DMR repeaters, any number of reasons why you'd want it.
  But we're going to show you how to put in the latest contact list. First up, open up a web browser. We're going to go to radioID.net. Then you're going to go up here and click on the database. Then up at the top here in blue, where it says database dump files, go ahead and click on that. Then down here, we want the user CSV.
  Save that to a safe place where you're going to know what it is. I'm going to put the database and then today's date just so we know what it is. Here we go. So if we go back into our CPS, what we want to do now is go over to tool, import, and then click on the digital contact list.
  Now from here, we can select our database dump file. Click open, and then import. Now, this process could take a few minutes. It's going to import that entire contact list into our codeplug, and then we'll be ready to write the codeplug to the radio.
  There we go, import complete. So the entire database has been imported to our codeplug, and now it's as simple as just writing to the radio like normal. Be sure to check the digital contact list and there you go. It's that simple. That's it for now. Hope you enjoyed this video. Hope it helps you. If you know anyone else who was having this issue or wants to know how to do this, share this video with them. Be sure to like us on Facebook, subscribe to our YouTube Channel. Don't forget to hit that notification bell. We're always producing more content and we don't want you to miss out on anything.
That's it for now, 73.