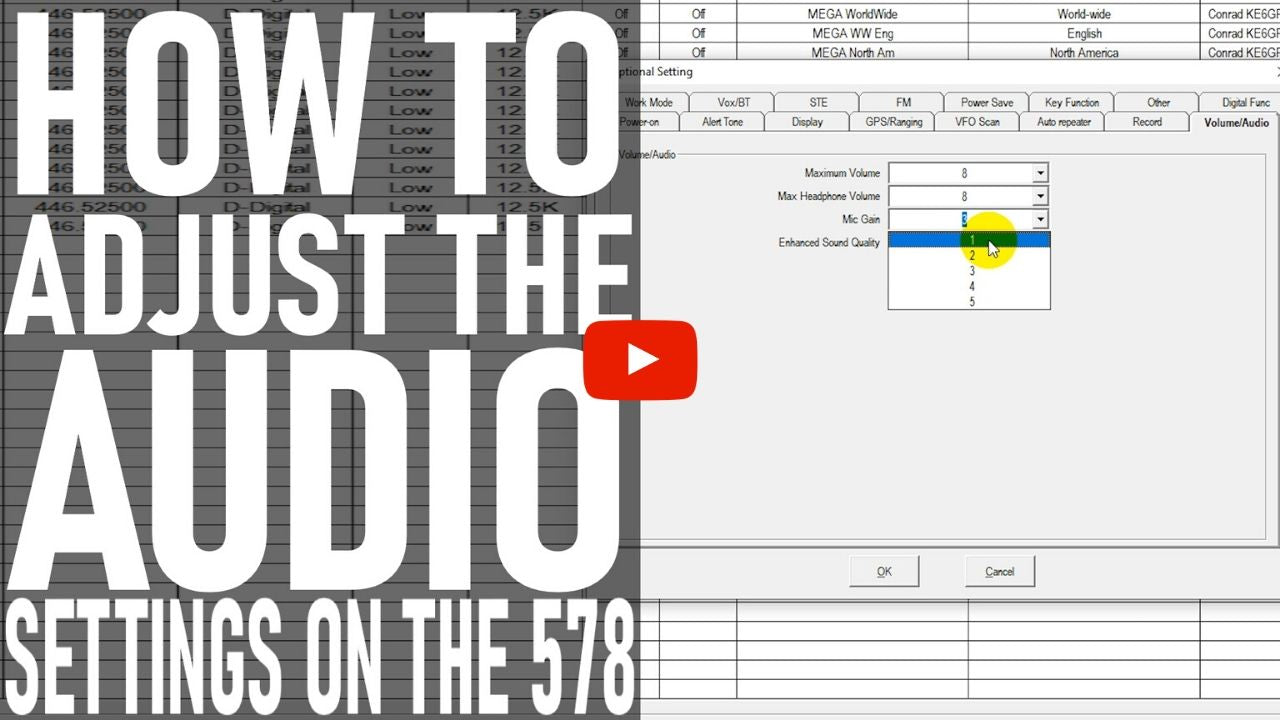 How to Adjust the Audio Settings on the AnyTone AT-D578
Want to stay updated on all things BridgeCom Systems? Click the links below to join our Offical Facebook Group and subscribe to our YouTube channel.
Transcript:
 "Hi, this is Sebastian KB0TTL. So you got the new 578 mobile, and the maximum volume's too high, may sound a little bit grainy or a little bit over-driven when you're in digital mode. Or maybe you're in your vehicle and the maximum volume isn't high enough. What I'm going to go into doing here is to show you how to go into the CPS software and define the parameters of the range of volume for a minimum and maximum volume. So that's actually a setting that we do in CPS. So your volume controls here for both VFOs, are not the be-all and end-all of the range of volume you get. There are additional settings that we can go into where you can select what your minimum and maximum volume is going to be. So let's step over to the computer and I'll show you how to take care of that.
There's been a few people will reporting that they've done firmware updates in their radio only to experience volume issues, that is the volume on their radio is not as high as it was before. And oftentimes when people go to update the firmware, the settings in their radio, it changes as the firmware updates here. And I'll show you where those settings are here. And these are some of the settings here to be aware of. They're going to be in optional settings and then volume audio tab. And these are pretty much the defaults that your radio should have: a mic gain of three, a max headphone volume of eight, and a maximum speaker volume of eight. These can be changed supposing you don't want the maximum volume to be the maximum volume. Say you want half volume to be the maximum volume of your radio, you can turn that down a setting or two if you would like, and then half the volume would become your new maximum volume.
And then as you vary your volume knob, it's going to be of course, a dividend of whichever of these settings you have. If you want the volume to be able to go up to full blast, you would, of course, leave it alone as maximum volume eight and then maximum headphone volume eight. The mic gain is well, can be varied.
Now, if you vary it too high, you run the risk of over deviating. You run the mic gain too low, you're really going to have to yell onto the thing for anybody to hear you. So typically three is a good default on the microphone gain. And this is actually going to be true of both radios, the mobile, the 578, and the handheld, the 878. So just be aware that when you update your firmware, sometimes these settings can change from what you had them set at. And these are the defaults that you will want to go back to if you're experiencing trouble with your volume.
All right. Well, I hope you enjoyed today's video. Make sure to hit that like button and subscribe to our YouTube channel. 73."