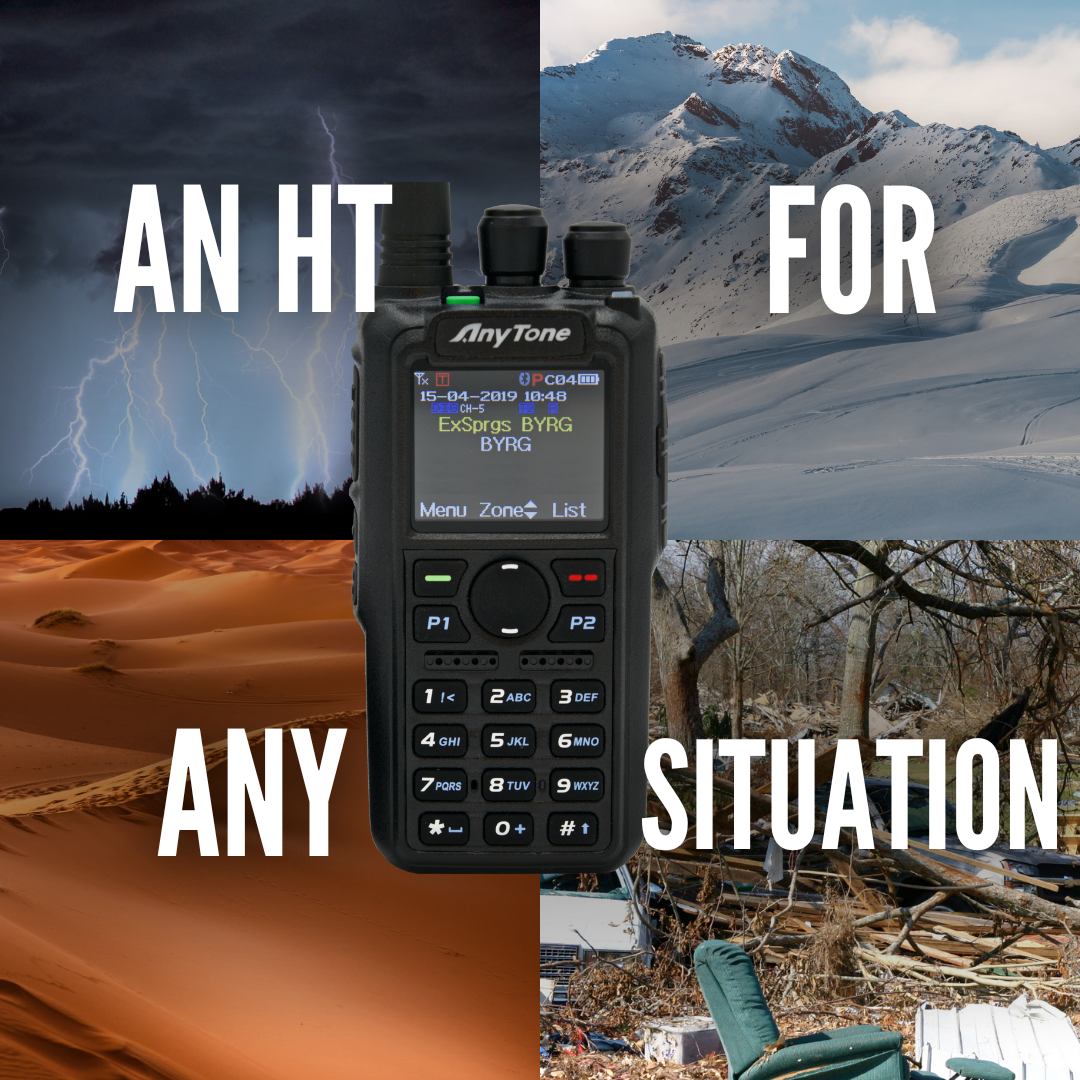 An HT Prepared for Any Situation
So you need a reliable HT to trust in any environment?

Perhaps a terrifying thing about today's cellular communication is its fragility. From harsh storms to a simple wire cut, you can lose all contact with the whole world around you. But there's a durable device to fight this precarious dilemma. What device you ask? An 878 radio.

If you're counting on your radio to ensure you and your family have reliable communication when all else fails, it better be the best radio imaginable so you can ensure you and your family's safety. It better be the highest-quality radio you can get your hands on. It better be an AnyTone 878.

Learn more here:
878UV - 878UV Plus - 878UVII Plus
In this video, we'll take you through everything you can expect with your AnyTone 878 and its key benefits for survivalist and prepper situations. 
Learn more about our latest & greatest 878, the AnyTone 878UVII Plus> 

Your family deserves the comfort of knowing that no matter what happens, you will always have effective communication and a possible path to safety. 
Hi everyone, I'm Cody, W3AMG, from BridgeCom Systems. Today, we're going to be talking about ham radio prepping and specifically why the AnyTone 878 Plus is a perfect choice for any survivalist looking for their first radio. In this video, I'll take you through everything you can expect from your AnyTone 878 Plus and the key benefits in any survivalist or prepper situations.
So let's start off with reliability. The AnyTone 878 Plus DMR radio comes with up to seven watts of power for clear and long handheld transmissions, and a 3,100 mAh battery, so you can go for days without needing a power source. DMR transmissions are more energy-efficient, so your radio will last longer and DMR transmissions are easier for your radio to receive. They transmit further, and they sound better. Digital radio reception is more resistant to interference and eliminates many imperfections of analog radio transmissions and receptions. This ensures you are having clear communications.
This radio can be used on commercial bands with the correct licensing so you can talk to almost everyone. And most crucial, the AnyTone 878 Plus is dual band. This means you can use it on analog or DMR, UHF or VHF, and you can use it with almost all common frequencies. With this being a DMR radio, you might be concerned that it will need internet to work, but this isn't the case. As I said before, this radio also has analog capabilities. Regardless, a DMR radio can still work without internet.
The loud and clear speaker makes this radio super easy to hear in noisy environments or in the vehicle. On so many radios out there, the speaker is just not loud enough. This will go above everything else and you will be able to hear it. So we have the radio on max volume going to try out the parrot real quick. Testing one, two, three. This is W3AMG testing the volume on the AnyTone 878 Plus.

[Audio coming back from the Parrot on the radio]:
Testing one, two, three. This is W3AMG, testing the volume on the AnyTone 878 Plus.

Yeah so it will actually hurt your ears if you don't have it far away from you. This radio is also IP 57 water resistant. So even a little bit of water won't bother you.
Daniel, from a previous video:
Andrew was asking how durable is the housing for the 878 plus.

Sebastian, with Daniel:
I'm going to have a little bit of fun with that here actually. *Sebastian throws the AnyTone 878 Plus onto the concrete floor.*

Daniel:
But yeah, it's very durable this case, so he just threw it on the ground pretty hard there and it's all good.

Back to Cody:
This thing is hard to break or damage. Finally, let's talk about how user-friendly the AnyTone 878 Plus is. Your radio will come with a simple to read customizable display to see who you are talking with, an easy to use programming software and cable included with your purchase, and a programmable front panel to punch in frequencies on the fly. When you purchase your AnyTone 878 Plus radio from us, you will receive BridgeCom University. This is our beginner to expert course, to give you the confidence and know-how to use your radio. Your purchase will also include BridgeCom Systems quality customer service to make sure you can always use your equipment.
Today we covered why the AnyTone 878 Plus is a solid choice for any survivalist or prepper looking for a reliable DMR radio. If you'd like to get one for your kit or go back, click the link down below and order one today. Again, thanks for watching. I'm Cody at W3AMG from BridgeCom Systems, 73.
Learn more about our latest & greatest 878, the AnyTone 878UVII Plus> 

Free 3-Step DMR Guide: https://www.bridgecomsystems.com/pages/3-step-dmr-guide

For more information:
📞: 816-532-8451
📧: contactus@bridgecomsystems.com
Technical Support: https://bridgecomsystems.freshdesk.com/support/home

Follow us on social media and stay up to date on all the latest news and products!

Facebook: https://www.facebook.com/bridgecomsystems
Instagram: https://www.instagram.com/bridgecomsystems/
Twitter: https://twitter.com/BridgeCom_Radio
LinkedIn: https://www.linkedin.com/company/bridgecom-system