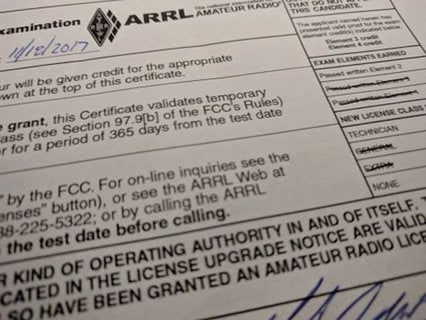 No Reason To Feel Intimidated Taking Your First Amateur Radio License Exam
Every licensed ham has had to take this exam, so don't stress about it.  Here is a good story of a guy just like you:
It was five minutes to noon and cold rain fell hard against a troop of girl scouts as they ran with poster-board projects from the door of the Hopewell Branch public library to their parents' idling cars.
I'll wait five more minutes, I thought as I sat dry in my own car watching through the rear-view mirror. The exam doesn't begin until twelve-fifteen. Maybe I'll catch a break in the rain.
-Matt Robb, KD2OTG
Read the full story here and don't forget to come back and check out the handheld radios we offer that are perfect for beginners. 
BridgeCom Systems BCH-220 Handheld Radio  - 1.25m/220mhz
Anytone AT-D868UV Dual Band DMR Handheld Radio - 2m/VHF and 70cm/UHF
Also we offer KB6NU No-Nonsense Study Guides. These are phenomenal guides that have helped countless people. You can get your technician guide from us for free!