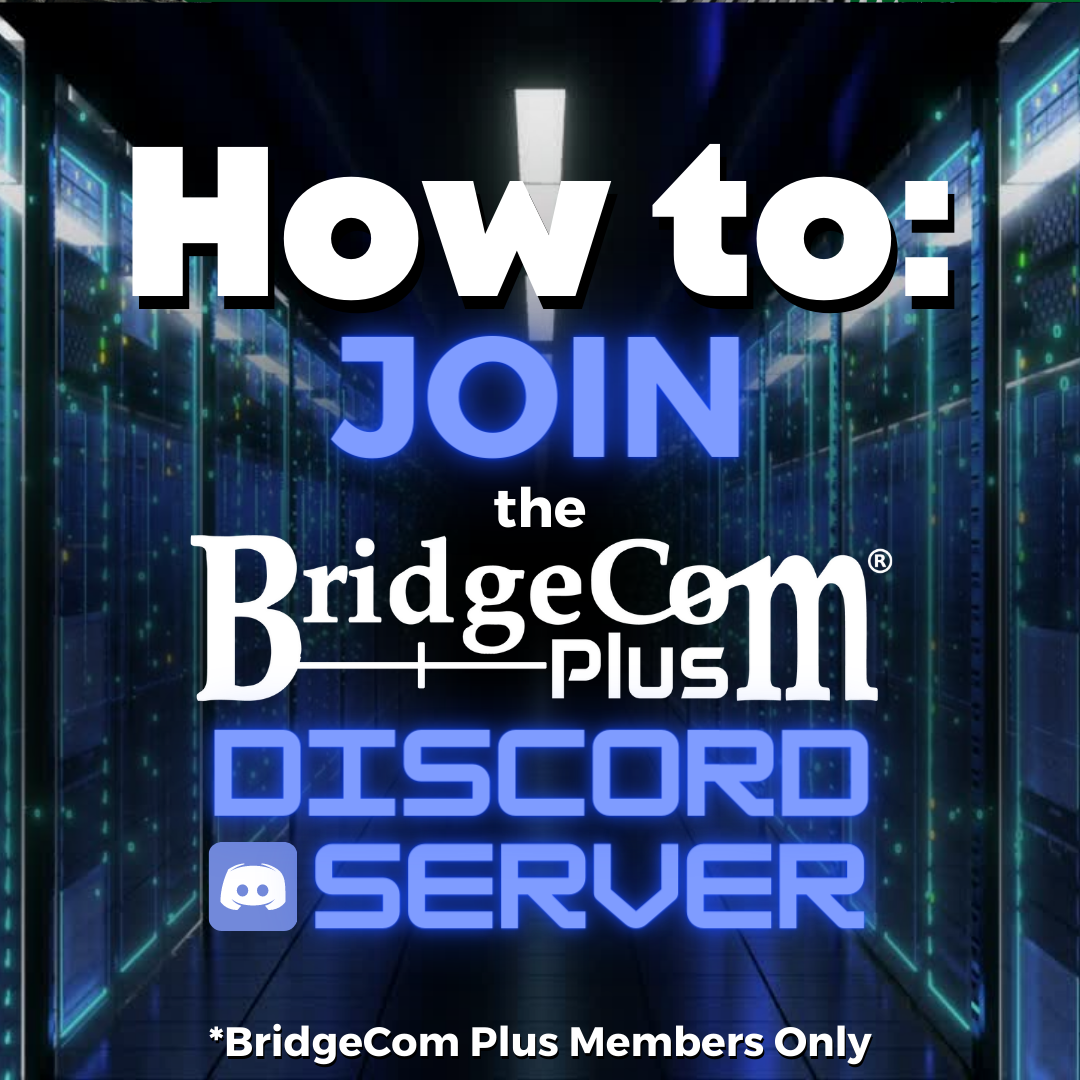 How to Join the BridgeCom Plus Discord Server
This article is intended for BridgeCom Plus members and provides steps to join our BridgeCom Plus Discord Server. If you would like to gain access to this exclusive private discord server, you can join BridgeCom Plus here.

So you've been wanting to join BridgeCom Plus for awhile now. You've weighed all your options and have decided to go with the BridgeCom Plus Annual Plan, which gives you all sorts of benefits you can read more about here. Now that you're a valued member of the BridgeCom Plus Community, let's walk you through exactly how to get access to our discord, and the next steps you will need to take.

Step 1: After you join, you will receive a welcome email with all the info you will need. 

Your BC+ Welcome email will look something like this:
If there are absolutely any issues with receiving this email, just let us know and we'll make sure to get it sent your way. Now that we have the welcome email in our inbox, access it and make sure to follow the 'Get started with BridgeCom+' steps. First, you may want to gain access to BridgeCom University. This is one of the best benefits of BridgeCom Plus, and may be the reason you joined in the first place, so be sure to follow the 1st step in the email to secure your BridgeCom University access.
Step 2: Download the Discord App on your Desktop
Now move to the second step in your welcome email, which provides a link to download the discord app. Know that you may have to create a Discord Account at this point if you do not have one already. Utilizing Discord through the Discord app on your computer is typically more convenient for our users, so that's what we'd always recommend but they also have a browser version you can use. You can find the link to download the discord app in your welcome email or
right here
. Be sure to choose the correct correct format of the software depending on your device. (Ex: Windows, Mac, Android)
Step 3: Use the link in your email to access the BridgeCom+ Discord Server


The second step in your welcome email also provides a link to join the BridgeCom Plus Community Discord Server. The text in the email states "Then use this link to join our official BridgeCom Plus Discord Channel". So, after you have downloaded the discord application on your desktop, be sure to click on that link so you can join. 

Then this prompt will appear:



From here, click 'Join BridgeCom Plus'.

You should then see this image on your Discord app that says 'Welcome to BridgeCom Plus'.



At this point, you should only see two channels on the left side of your app on your list of discord channels. The 'Verify' channel, and the 'Welcome' channel. 



Right now, we just need to get verified in order to join the full list of channels in the BridgeCom Plus Community, as there are multiple channels we can communicate in through BC+. 

Click the green check mark you see shown in this picture to verify yourself.



This will expand your channel list to include all the various channels we have on the BridgeCom Plus Discord server including things like 
announcement channels, feedback channels, and entertainment channels that members of the community. Your channel list should now look more similar to this:
Once you can see this list, you know your in the BC+ Discord Server! Feel free to introduce yourself in the general chat and start making more connections with our team and your fellow hams. Once you get comfortable in the server, be sure to browse around and engage in any channel you feel like, just make sure to keep things cordial, and keep things relevant to that channel. Now, that your in, we can't wait to talk with you. We'll hear from you in the BC+ Discord!
Looking to join BC+?
Click here
Looking for a FREE Trial to BC+ to try it out?
Click here