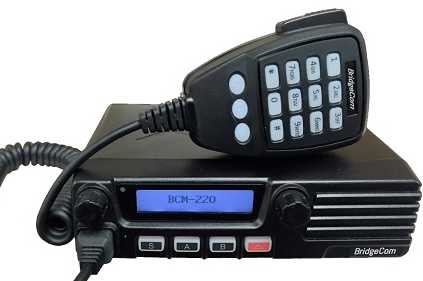 BridgeCom Systems BCM-220 Mobile Radio/Signalink Interface, By Paul Curry, K6PEC
Purpose
My purpose in building this interface was to have the capability to receive NBEMS messages for use in a disaster and disaster exercises. Since this was a new radio on the market, I did not find any information regarding the building of this interface.
Scope
This article is intended to provide information on the building of this interface and the associated jumpers for the Tigertronics Signalink. This article does not provide information on how to utilize the associated software. However, just for information, I did use a PC, with Windows 10 with FLDIGI, FLWRAP and FLMSG.

Introduction
While this is a relatively simple interface, I have written this article in the spirit of helping and assisting others in interfacing the BridgeCom Systems BCM-220 radio accessory port with a Tigertronics Signalink. To that end, it may be overly detailed for many, but will hopefully fulfill a broader audience.
Disclaimer
It was suggested that I add a disclaimer to this article, so here it is. You use the information in this article entirely at your own risk. I, (the author of this article) will not be held responsible for anything that happens as a result of using this information.

Description
There are 2 components to this interface. One is a custom cable to interface the radio accessory port to the Signalink unit and the other component is the associated jumpers internal to the Signalink.

Cable Build
Cable Build The cable between the BridgeCom Systems BCM-220 radio and the Signalink consists of one RJ-45 connector wired as EIA-568B for the Signalink end, and one HD-15 connector for the radio end. The Signalink unit come with a 3 foot cable the and Rj-45 connector for use at the Signalink end. This connector is pictured below for reference.  
For the rest of the Article, click here.