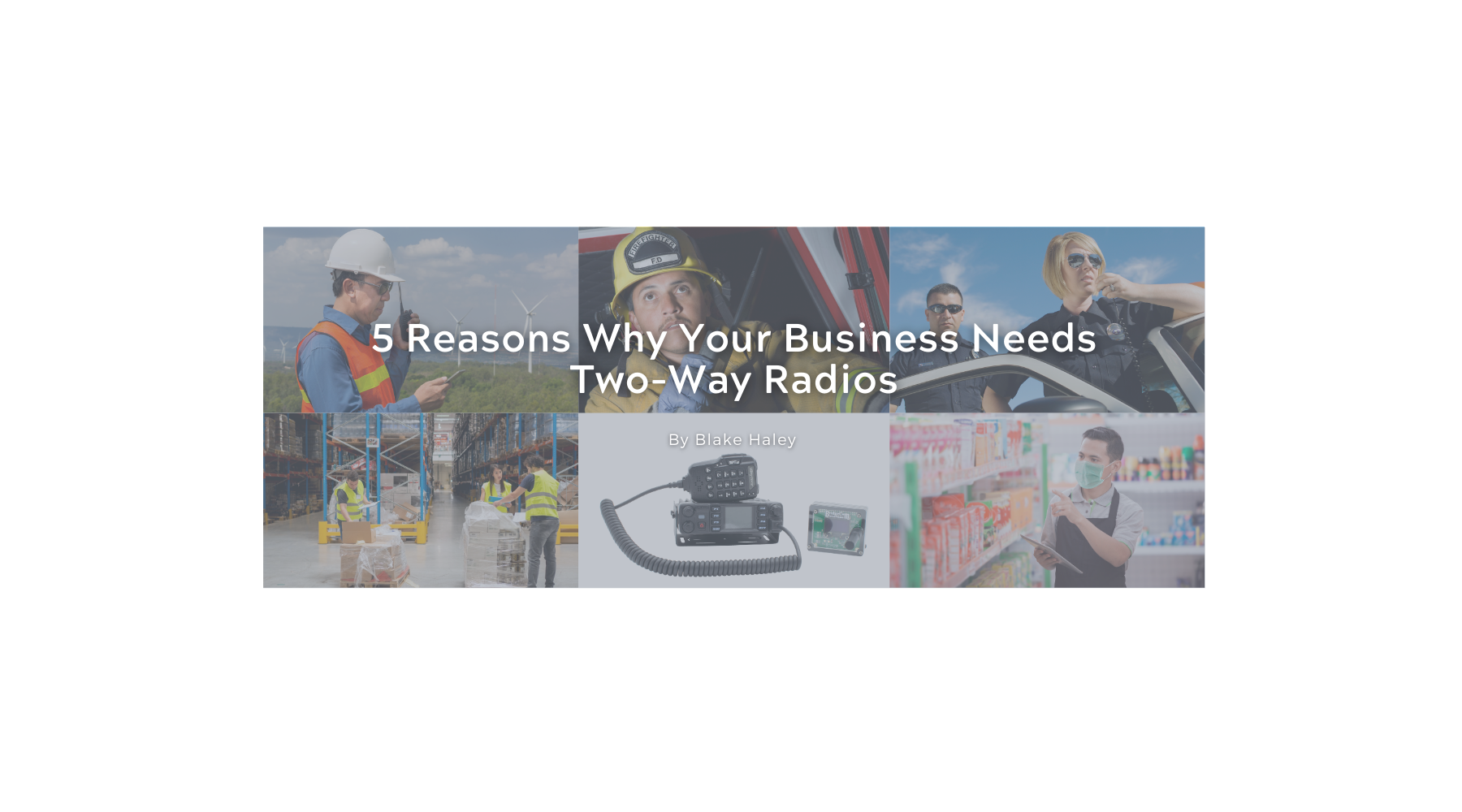 5 Reasons Why Your Business Needs Two-Way Radios
There is an endless list of reasons why a company should choose to go with two-way radios for their communication services, but the most important come down to these top five. Many industries and sectors we coordinate with need quick and efficient modes of communication in order to effectively operate. It is often critical for large companies to effectively communicate, but it is most important for emergency responders to take advantage of the benefits from two-way radios. Consider these benefits when choosing what your company or organization should invest in for your communication system.
Top 5 Reasons for Choosing Two-Way Radio Communications:
Economical: 
Perhaps the most important reason for choosing two-way radios is the price. You will never pay another monthly charge with a two-way radio. Smartphones and cellular devices come with monthly plans, limited warranties, and are just expensive overall. Two-way radios can be a cost-effective way for companies to provide communication devices to their staff members. Two-way radios cost nothing to operate after your initial purchase and do not require continuous upgrades every year. The cost of simply not having to pay for a monthly plan will save your company thousands of dollars every year. 
Reliability:
Battery life, durability, and service range. These three factors are constant issues with smart devices. Compared to smartphones and other devices requiring frequent charging, delicate care, and cell towers; two-way radios are far more reliable. During emergency situations, the last thing you want to think about is if you are going to need to find a better signal. Imagine needing to communicate your location for a medical emergency to a fellow teammate and coming to the realization that you are out of service because of a damaged powerline. This happens constantly during storms and natural disasters. The only problem a medical personnel should have to worry about is the problem in front of them. They should never have to worry about their equipment's reliability.
Communication Quality:
A perfect example of radios being used to communicate effectively is in event coordinating. Clear and timely communication in this field is paramount to companies successfully coordinating any event. Some examples include wedding planning, sporting events, and concerts. There is nothing more crucial than having fast and concise communication when fixing an unexpected issue. They can happen anywhere at any time, so having a device you can rely on for any situation is key to having successful outcomes.
Simplicity:
Two-way radios are just simpler to use. Most commercial two-way radios allow for single-button communication. This means anyone in your staff using our radio only needs to know how to press a single button to communicate directly with their team members. This level of simplicity is unmatched by any kind of smart device on the market. Many industries currently using two-way radios deal with stressful situations on a daily basis. Having a device that you can be confident every user can operate with ease will make operating your company far simpler. 
Team Communication:
Synergy is incredibly important for teams to reach a greater outcome together. Companies often require the benefits of a team call in order to effectively communicate, but coordinating a group call every time is a hassle. This is where two-way radios are unmatched. Any user who is dialed into the correct channel can hear anyone who is in range of them. An employee will always be connected with their team and never have to make multiple calls in order to talk to everyone on their team. Zoom calls are nice for meetings, but they are not an effective, nor a practical form of constant communication.
Conclusion: 
Two-way radios are used by all kinds of industries, from Event Coordinating to Emergency Medical Services. Many industries take advantage of two-way radio in different ways. The retail worker benefits from the simplicity of using a radio to help a customer find beans in aisle 4 and the Emergency Medical Technician benefits from the reliability of their radio in life threatening situations. Consider these 5 factors when choosing one of your major systems of communication at your company.