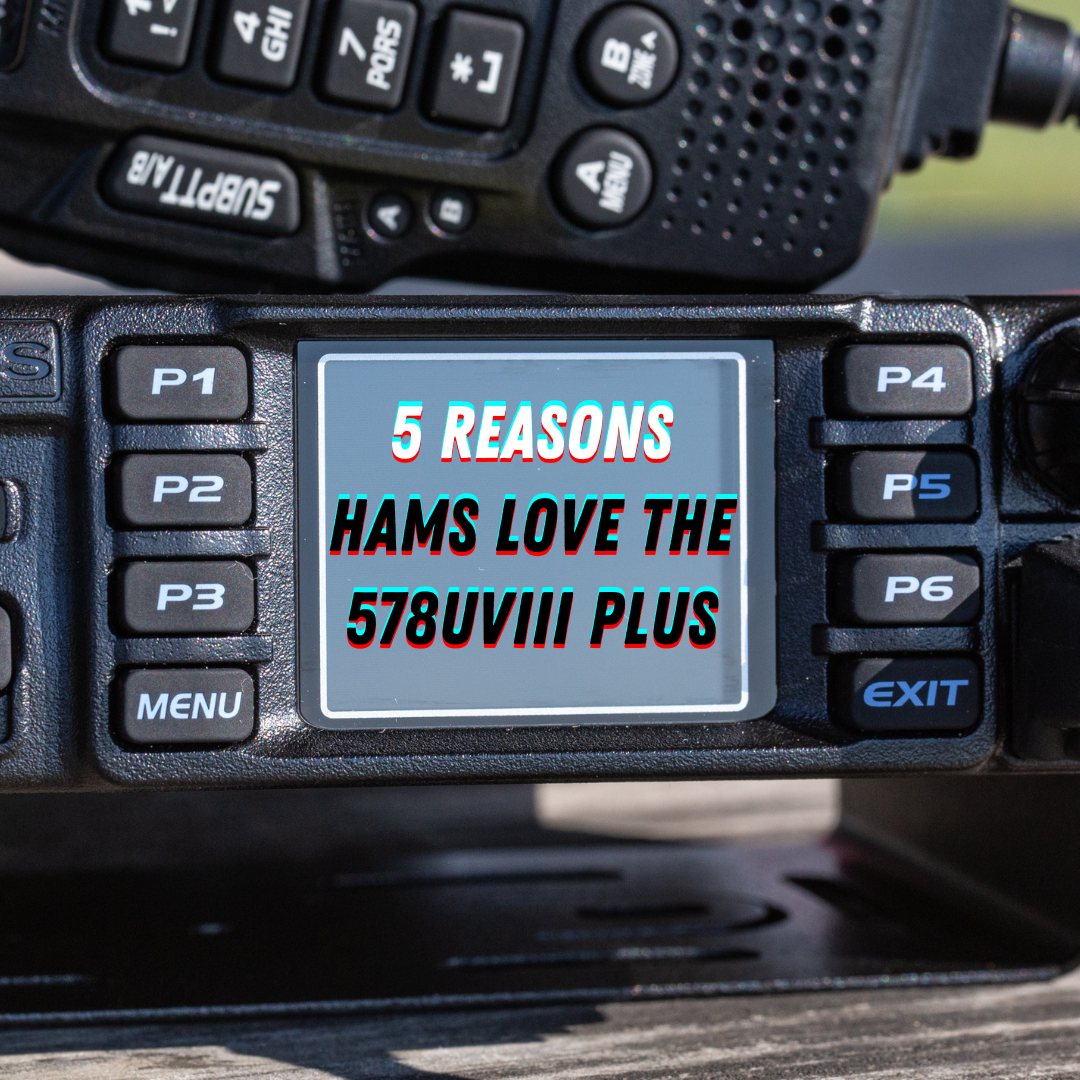 5 Reasons Hams Are Loving The AnyTone 578UVIII Plus Mobile Radio


Recently, we have been seeing a ton of activity surrounding the AnyTone 578UVIII Plus Mobile Radio. Whether it's orders, questions, or reviews, we are seeing a huge increase in interest around the 578UVIII Plus. Because of this, we wanted to outline some of the reasons customers can't wait to get their hands on one.

Here are 5 Reasons why our customers love the 578UVIII Plus with customer reviews and quotes included.

1. Tutorials and training videos you won't get anywhere else

BridgeCom Systems is your one-stop shop for all training and tutorial videos for your new radio. The most common problem we see is people thinking that DMR is too complicated, or thinking they will be on their own when learning to operate their new piece of equipment. This may be true elsewhere, but with BridgeCom, you will have access to videos that you would have not known about or seen otherwise. Check out our Youtube Channel for help or maybe look into getting access to BridgeCom University. You could also consult the BridgeCom community on Facebook or get Free Access to our BridgeCom University videos through BridgeCom Plus, our new subscription service. No matter what you need, we likely have a video that covers it. Just see what Steve and Brian had to say:

"The radio cam[e] quickly and packaged just like the videos... Thank you, and thanks for all the videos that really help."
-Steve KE0CYW

"..if you follow the BridgeCom videos it all comes together."
-Brian R.
2. Features

There is a lot to love with the 578UVIII Plus, which includes the many features you can utilize. This radio holds 500,000 contacts, so you will never run out of space to add the hundreds or thousands of contacts you will likely be making. It also boasts the ability to use Airband Receive to listen to air traffic, and the ability for APRS transmit and receive. With APRS transmit, you can report where you are to other DMR users, and can discover where other APRS capable radios are located. These features and more are waiting to be utilized on the 578UVIII Plus.

3. Easy to get started

This radio is easier to get started with than a lot of other mobile units out there. Programming this radio is likely easier than expected, and our team will always be there for backup.

"This radio is easy to program for you local frequencies and repeaters as well as the many DMR Talkgroups.."
-Dale S.

"..with in 30 minutes of opening the box I had the cps installed the radio programed and made my first contact.."
-Melvin H.

4. A 5-Star support team that truly invests in your success

Speaking of our team being there for you, we feel our responsibility is to help you be successful with your radio. We have a support team built of hams and experts alike, that truly want to help you be successful with your new purchase. We will talk you though any issues, be there for you by email and phone, and are always willing to go the few extra steps it takes to contribute to your success. 

5. Use it as a base station or mobile rig

This radio is one of the most versatile mobile rigs on the market. With the functionality to be used as either a base station or a mobile, you can pick and choose what will be best for you.

"Versatile rig. I'm using it as a mobile rig as well as a base station. I like the tri-band ability, and the dual speakers."
-Edward P. K4EGP

"Great mobile or base station radio... It's a great radio for you[r] ham shack or as a radio for your bugout bag t[o] help you keep in touch when things go south."
-Dale S.

From the training, to the features, to the setup, you can know you are making a smart purchase with BridgeCom in choosing the 578UVIII Plus Mobile Radio. We will be there for you every step of the way, and have knowledgeable people to answer any questions that pop up. We come out with new videos and streams each week to help you on your DMR journey, and are always looking for ways to provide value. Just remember these 5 things you get with a BridgeCom mobile radio purchase, that you likely won't get elsewhere, and ensure future success with your AnyTone 578UVIII Plus Mobile Radio.

Check out the 578UVIII Plus today:
https://www.bridgecomsystems.com/pages/578uviiiplus