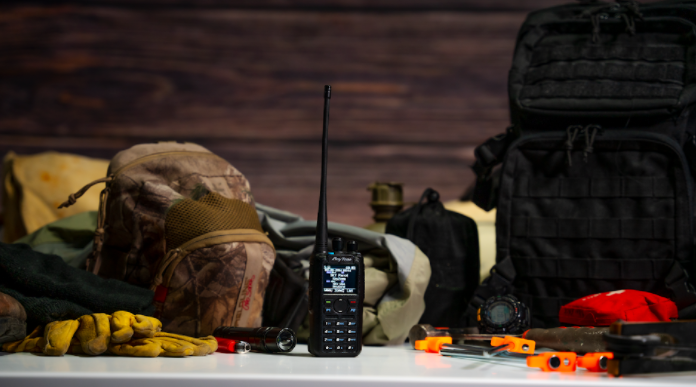 3 Tips for Preppers and Survivalists
A quality radio is an essential part of any survivalist bug out bag. You can use it to quickly communicate with others in times of disaster, or even use it to communicate with your family over vast ranges when the power
goes out.
Getting started in radio can be a little more daunting that you might think. To make joining easier, we have compiled 3 quick tips to help you get on the air quickly to secure an essential piece of your bug out bag.

1. Get a GMRS license

You can join the world of radio in a variety of ways, but when it comes to survivalists or preppers there is no better way to start than with a GMRS license.

Survivalists coming to amateur radio are frequently perplexed by all the rules, regulations, and licensing requirements. But with a GMRS license, all you have to do is pay a small fee. After that, your license is good  for 10 years without testing or studying and it covers your whole family.

A GMRS license allows you to operate on the General Mobile Radio Service (GMRS) and use the channels from 462 - 467 Mhz. This is ideal for covering short distances among family members, and will serve you well when communicating in an emergency scenario.
1.5 Get GMRS radios for you and your family
You will need some reliable and simple to use radios that are going to be robust enough for frequent use, but simple enough a child could use one. For that we Recommend the Echo GMRS radio bundle. Get more info here. 
 
2. Improve Your Radio's Range With a GMRS Repeater

A repeater is a two-way frequency communication system which receives a frequency from a portable 2-way radio and then retransmits it on another frequency in real time.

This systems is a great way to extend your transmissions signal further to reach more individuals who may not be in range of your radio signal.

This will make it so you will be able to connect with other preppers like you
within the region. This makes it easier to correspond quickly with fellow preppers
and build up a strong network for when things get uncertain.

3. Set Up A Communication Network

A Local communication network will not only allow you to maintain your safety, but also the safety of your community. Creating a local network of family members and a larger network of preppers to talk with via radio, is a great way to improve exchanges of information and create new communities.

Going about this can seem like a bit of a challenge but you don't have to try it without some assistance. Bridgecom Systems can help you with any questions you have on these topics when it comes to GMRS radio and many more DMR Radio topics. With our staff of expert technicians and 30 years of experience within the radio industry we will always be happy to see what we can do, to get you up and running.

So if you want to get setup with radios and systems you can trust. Visit this link or give us a call at 816-532-8451