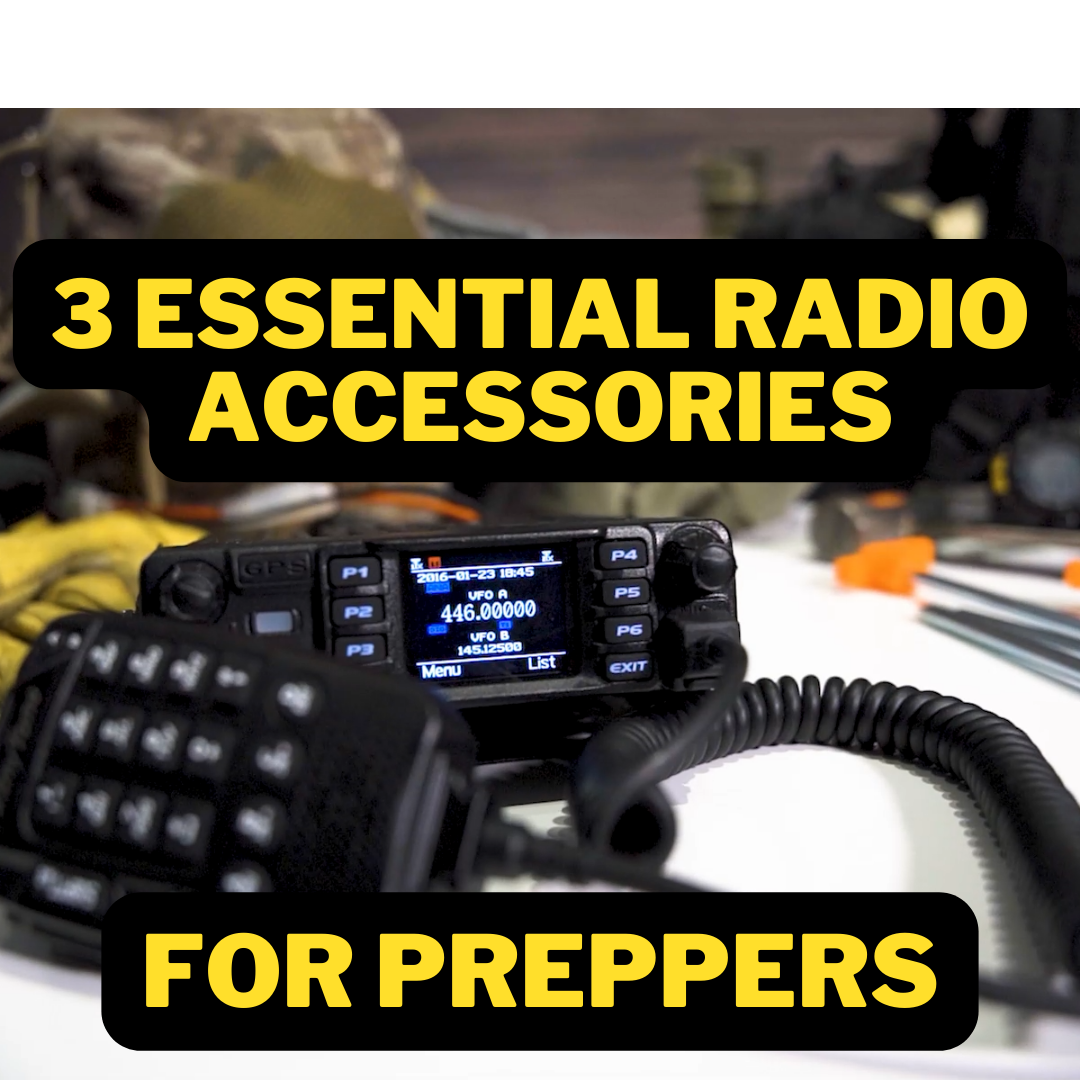 3 Essential Radio Accessories for Preppers
Are you looking to go about anywhere with your AnyTone 578 Mobile? Whether you're a prepper trying to find a reliable communication system or a seasoned amateur radio operator, trying to get the most out of your radio, it's always essential you have the highest quality accessories to complement your radio. We will be breaking down the 3 most essential radio accessories for preppers.


Powerful Antenna
One of the most crucial things you need to operate your radio is an antenna. Many radios are limited with the range they can reach, but using an antenna allows you to maximize your range capability. Specifically, for the 578 mobile, you'll need the AnyTone Tri-band Antenna. When you use this antenna, you'll cover far greater distances, and you can make more contacts. What makes this antenna even more special is that Your Tri-band antenna comes with 3 band functionality allowing you to monitor (144/220/440) frequencies. It can also handle up to 100W of power. This way, nothing will get in your way when hearing fellow radio operators! It's a rugged and well-built antenna, perfect for any vehicle or home installation. For vehicles it can be easily mounted making it easy to travel with, even if you're driving through rough terrain, through 70 MPH winds.
Antenna Mount
When it comes to off-road vehicles or other types of vehicle, you have many options for installing an antenna mount. You can get the best performance out  of your antenna when you mount it on a flat metal surface like a vehicle roof, but this may have a couple consequences. Your antenna will likely come into contact with many low hanging objects such as tree branches and other terrain. You may want to go with a smaller antenna, but this will likely limit your range.

If you're planning to go mobile with your radio, make sure you get the maximum range by using a powerful antenna. Something a little more durable that will fit snugly on your vehicle like the SO-239 trunk clip would be perfect. This clip has a well-polished stainless steel construction and with it comes a solid brass chromed machine cut threading. The SO-239 has a 17ft RG58 Shielded Coaxial Cable making it easy to run into your vehicle for simple installation. Once it's installed, you'll be able to quickly mount your tri-band antenna and start making contacts immediately.
Power Supply
Lastly, you're going to need some power. Without an external power source your radio is almost useless. It's important you don't drown out the sound of your radio with a loud generator. That's why we recommend the Duracomm LPX desktop power supply. When you're making contacts with this commercial grade unit - the loudest thing you'll hear is your radio. The lpx-18 comes with enhanced electronic filtering and noise shielding, added auto ranging AC input, and adjustable DC output, all while maintaining the standard 7 inch design - making it perfect for your base station.
Every radio user's equipment is set up differently, but if you are wanting to transmit from anywhere, these accessories will make it much easier. Thanks fore reading. 73.