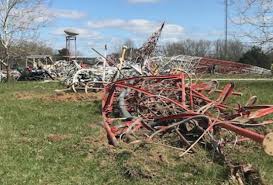 1 Person Dead In Missouri Tower Collapse.
The collapse happened shortly before 10 a.m. just off of Highway 60 near Highway FF.  in Fordland,  Missouri.  
Firefighters say a crew of seven were working at the tower when it fell. Three suffered minor injuries. One person has died. Emergency crews transported them to a Springfield hospital. The crew had been working about 105 feet up on the tower performing "routine maintenance".
Authorities are investigating why the tower collapsed.
The tower is owned by KOZK, the PBS station operated by Missouri State University.
Our thoughts and prayers go out to the workers and their families. 
 Original story: http://www.ky3.com/content/news/TV-tower-collapses-in-Fordland-480261283.html