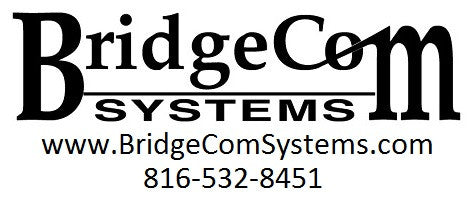 Reviews, Reviews, Reviews
Ed Thompson K1KZP
★★★★★
BCH-220 is nice
While purchasing my BCR-220 repeater, I decided "oh what the heck why not try a BCH-220' and added it to my order. I like it very much and use it frequently. I particularly like the size and ease of programming. My only critique is the lack of a bar graph for power/signal strength. The signal coming from my BCR-220 is so strong causing a full quieting condition that unless someone is speaking, I can not sometimes tell if there is a signal at all except by turning the volume way up and confirming it. Nice job BridgeCom.
Brian Hunt
★★★★★
Solid!
First off this is a very unassuming looking unit. It's something you'd expect to see on a law enforcement official, dock worker or being thrown on the seat of a contractors truck. Is that a problem? No way pal! This radio is clear as a bell and built to be used. There isn't a lot of 220 traffic in my area but with our local repeater I'm making contact in a 3 state area. I've been super happy with this unit.
Gary S. VE7AS
★★★★★
BCR-220 Repeater
When our original repeater died, we decided to buy the BridgeCom BCR-220, as so many clubs have done around the Pacific Northwest. $995 US turned out to be $1550 CDN, but it was worth it. The first thing we noticed was amazing transmit and receive audio--crisp, clean with excellent tonal qualities--very easy to hear in a mobile. The software was super simple to navigate and hassle-free. Later we plugged in our ID-O-Matic IV voice ID board, and with some experimenting with audio gain controls managed to get it working perfectly. We purchase a $300 110Ah sealed AGM battery and when the power to the hut went down for 8 hours one day, no one noticed anything different! It worked perfectly throughout that day. The receiver seems more sensitive than our previous equipment, it is frequency stable, well put together and runs cool. The only thing that kind of bugs me, is that we've not been able to find a watt meter to tell us it's actually putting out 30 watts--and we've tried many commercial-grade meters, and most of the Ham-grade ones. Ron and Tim have been extremely helpful in our initial set up and concerns--best customer service ever! It's only been a couple of months, but so far we are all very happy we spent the money... We are now seriously considering buying the 100W amp in the Spring of 2017 [at SeaPac] and if we decide on a 440 repeater, it will be a BridgeCom. We haven't tried the remote programming or transmit inhibit feature yet, but then again we haven't had to! For now, we can all sit back and enjoy a solid signal around our coverage area... THANKS BRIDGECOM!
Ralph Davis
★★★★★
Great 220 MHZ Radio
Just got this 220 MHz radio and found it easy to program with good audio. It is built well and should hold up for a long time.
David
★★★★★
Fantistic
I love everything about this repeater
Ed Thompson K1KZP
★★★★★
BCR-220 In Wilmington MA 224.16 Mhz K1KZP
I bought the BCR-220 to replace my aging 224.16 repeater which had given decades of service. The Bridgecom works very well and i would highly recommend it to anyone considering a repeater purchase. I have a couple of small dislikes. 1 the way provided to adjust the squelch. It would have been nice to have a pot as in older equipment so as to be able to open the squelch to the lowest signal level possible. With the Bcr-220 setup I feel that the lowest setting does not quite reach the lower levels of incoming signals. 2 The internal power supply can not be used to power any auxiliary equipment due to the way it is configured. It has the capacity but no way to connect it to external items. Therefore I needed an additional extra supply to power up the other accessories.