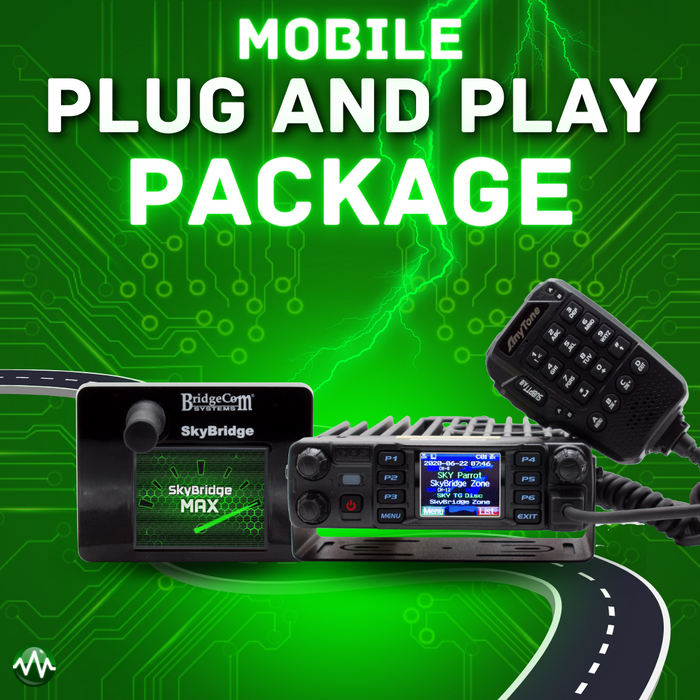 Mobile Plug and Play Package: AnyTone AT-D578UVIII PLUS Mobile Radio w/ SkyBridge Max Dual-Band Digital Hotspot
The Mobile Plug and Play Package: Your Solution for Seamless Ham Radio On-the-Go!
Get ready for unparalleled mobile ham radio adventures with the Mobile Plug and Play Package. This all-inclusive package includes the versatile 578UVIII Plus Mobile Radio and the cutting-edge NEW SkyBridge MAX hotspot, giving you everything you need to make QSOs on the move.
Key Features:
🚗 Mobile Freedom: Enjoy ham radio operations from the convenience of your vehicle, making communication on the go a breeze.
📻 578UVIII Plus Mobile Radio: Experience the power and versatility of the 578UVIII Plus Mobile Radio, designed for mobile ham radio enthusiasts.
🌐 SkyBridge MAX Hotspot: Connect to the world of digital ham radio with the latest SkyBridge MAX hotspot, extending your radio's capabilities like never before.
📖 BridgeCom University: Gain FREE access to BridgeCom University's video training, helping you master the SkyBridge MAX and 578UVIII Plus Mobile Radio with ease.
Start Your Mobile Ham Radio Journey Today:
With the Mobile Plug and Play Package, you're equipped to explore new horizons in ham radio communication. Hit the road, stay connected, and enhance your skills with BridgeCom University. Upgrade to this comprehensive package and make every QSO a memorable one!
Save: $ 97.00
Original price
$ 1,056.99
Original price
$ 1,056.99
-
Original price
$ 1,056.99
Original price
$ 1,056.99