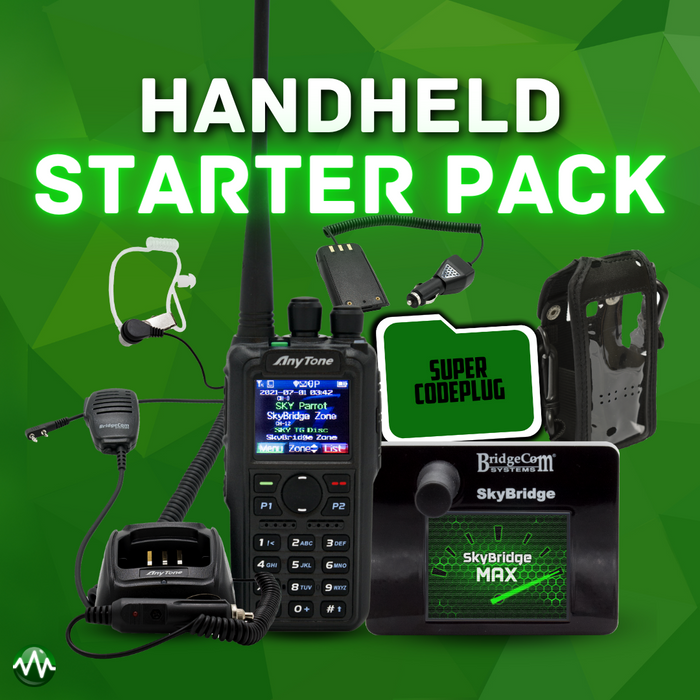 Handheld Starter Pack with $194 Training Course FREE!
"True plug and play! Plugged it in, turned it on and it worked. First QSO in 2 minutes success and it looks good too. Fast service. Company easy to deal with kept me updated at all times via email and phone. Great experience."   -Christopher Q., Plug and Play Package Customer

The perfect starter pack for the ham radio operator wanting to get into digital radio! Totally programmed for making contacts straight out of the box! PLUS all the accessories you need! Ready to get into digital? Let's go!

***Scroll Down Page for MORE details, videos, specs, etc.***
Plug and Play Package: AnyTone AT-D878UVII PLUS
Which includes:

AnyTone AT-D878UVII PLUS - ($314.99)

SkyBridge Max Dual Band Digital Hotspot - ($424.99)

Plug and Play Programming Service - ($75)

BridgeCom University AnyTone 878 Training - ($97 Value)


BridgeCom University SkyBridge Hotspot Training - ($97 Value)

Radio & Hotspot Accessibility Essentials Bundle ($147 Value)

Handheld Starter Pack Extras:


Super Code Plug - ($69.99)
BCS-200 Water Resistant Speaker Mic - ($29.99)
Nagoya NA-701 8-Inch Whip (144/430Mhz) Antenna - ($24.99)
AnyTone 12V Battery Eliminator - ($19.99)
Heavy Duty AnyTone 868/878 Protective Case - ($34.99)
BridgeCom BCE-300 Security Style Earpiece with Mic - ($19.99)
AnyTone AT-D868UV / AT-D878UVII Mobile Battery Charging Kit - ($21.99)


Total Value: $1,377.91

Your Price: 

$999.99
Original price
$ 999.99
-
Original price
$ 999.99