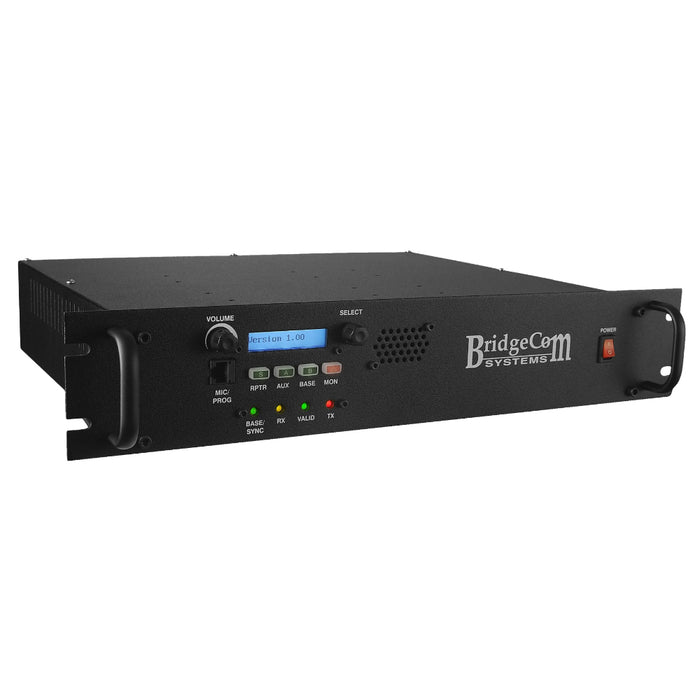 BCR-220 (220 MHz) Repeater
"Replaced my 220 repeater with a quality built Bridge Com repeater. This is a very well designed repeater and has great FM audio. 

With all the other qualities built in the repeater design. Kudos to Bridge Com and gang for building a fine repeater."- Ben C., BCR-220 Repeater Customer
 All Repeaters and Duplexers are PRE PROGRAMMED to your specs at NO ADDITIONAL CHARGE!
The BridgeCom Systems BCR-220 FM Repeater is built for amateur ham radio! 

operates in 222-225 MHz 1.25m range of the RF spectrum

Feature rich repeater/base station

Packed with loads of RF power

Dual fans to run cool in the harshest environments

Excellent choice if you're considering a 220 repeater for your club or personal use

Perfect choice for A.R.E.S./R.A.C.E.S. operation, and emergency management

Built in the USA!
When you place your order please include Tx/Rx Frequency, PL Tone In/Out, Station ID, Desired Transmit Output Power
Digital Ready for Amateur Dual Mode (Digital/Analog)
1.25m (222-225 MHz) - Adjustable from 5 to 30 Watts Continuous Duty
Designed and assembled in the USA
2 - year warranty
Windows® Based Programmer (Sold Separately)
Built-In 11.2A Power Supply
Battery Backup with Built-in Charging Circuit
Dual Cooling Fans
Front Panel Speaker
25-pin Accessory Connector
Adjustable Squelch
12.5 kHz/20 kHz Channel Spacing
Over-the-Air Programming and Maintenance via DTMF Tone Sequences
Built-in station CWID - Morse rate programmable 10-25 wpm
The MAX Current when transmitting 30Watts is ~ 8 Amps
Quiescent draw is around ~250mA

FREE

Initial Programming
Available with Duplexer 
Read the BCR-220 review on eham.net
Original price
$ 1,499.99
-
Original price
$ 1,499.99