Order the Brand New AnyTone
AT-D878UVII Plus!
In Stock and Shipping NOW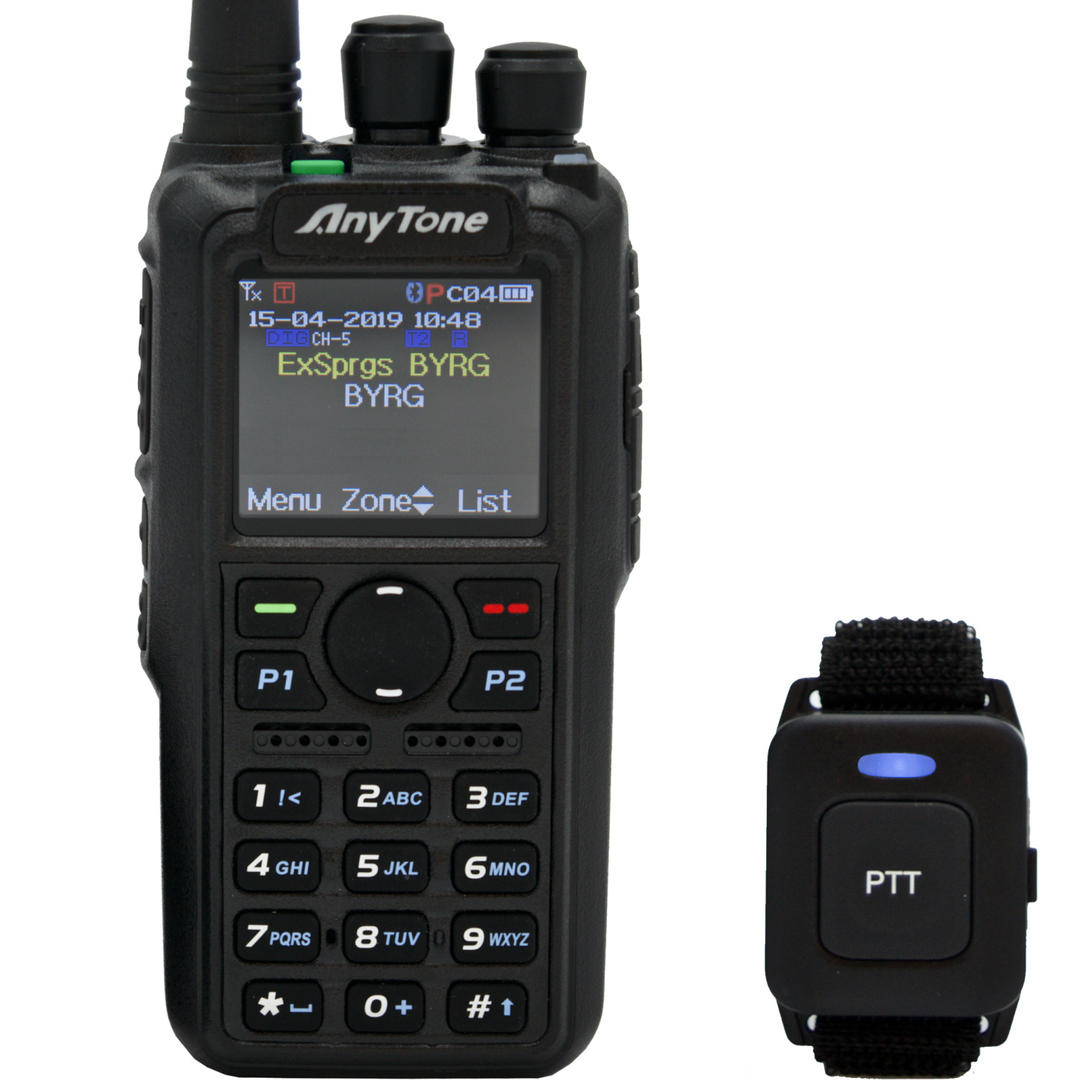 AnyTone AT-D878UVII Plus
In Stock and Shipping now
In Stock and Shipping now
"The 878UVII is now my favorite radio. They took the best parts of the 878 added a few features and upgraded memory... I like the new feel and look of the updated 878. Highly recommend." - Ron KB9ZB

AnyTone AT-D878UV+BT dual band DMR/Analog radio
($299.99)
Stress-Free Customer Service and Support
($100)
Access to Our Exclusive Facebook Group
($100)
BridgeCom University AnyTone Training
($97)
3100 mAh Battery w/ Belt Clip
($30)
Charging Base and AC Adapter
($22)
Programming Cable and Software Download (Windows Only)
($30)
Bluetooth PTT Button Charging cable and Velcro strap
($20)
High Gain Dual Band Antenna
($25)
Two AnyTone Stickers
($10)
User's Manual and Quickstart Guide
1-Year Limited Manufacturer Warranty
2-3 Day Shipping
($20)
Total Value: $783.99
Your Price: $299.99
& Free 2 - 3 Day UPS Shipping
HAVE QUESTIONS OR WANT TO ORDER OVER THE PHONE? 
CALL US AT 816-532-8451
Mon. - Wed. 8 a.m. - 5 p.m.
"The 878UVII is now my favorite radio. They took the best parts of the 878 added a few features and upgraded memory... I like the new feel and look of the updated 878. Highly recommend." - Ron KB9ZB

AnyTone AT-D878UV+BT dual band DMR/Analog radio
($299.99)
Stress-Free Customer Service and Support
($100)
Access to Our Exclusive Facebook Group
($100)
BridgeCom University AnyTone Training
($97)
3100 mAh Battery w/ Belt Clip
($30)
Charging Base and AC Adapter
($22)
Programming Cable and Software Download (Windows Only)
($30)
Bluetooth PTT Button Charging cable and Velcro strap
($20)
High Gain Dual Band Antenna
($25)
Two AnyTone Stickers
($10)
User's Manual and Quickstart Guide
1-Year Limited Manufacturer Warranty
2-3 Day Shipping
($20)
Total Value: $783.99
Your Price: $299.99
Built-in GPS 
Bluetooth - Connect to your favorite audio device (Headset, speaker, etc)
Roaming (Auto/Manual) - Connect to repeaters automatically as you drive
Loud speaker - 1w speaker power for loud and clear sound
Repeater Check (Out-of-Range Checking for Repeater)
Talker Alias (sends and Displays)
Analog and DMR APRS
Custom Standby Background Picture and Power-On Picture
AnyTone AT-D878UV PLUS Version 1 with programming cable, GPS, And 3100mAh Battery.

VHF/UHF DUAL BAND:

Features both DMR digital and analog modes. DMR Tier I and Tier II operation.

Massive Memory: 

4,000 Memory Channels, 10,000 DMR Talk Groups, 500,000 Digital Contacts, 250 zones, up to 250 channels per zone.
136-174 / 400-480 MHz RX/TX 
2-pin style Kenwood K1 type speaker mic connection. IP-54 Water and Dust Resistant
Color TFT Display - 1.77-inch color TFT screen for Day or Night operation with Dual or Single Channel display

4 programmable power levels: 

6/4/2.5/1 Watt Transmit Power Levels
1.77-inch color TFT Screen with a selectable dual channel or single channel display
Bandwidth 12.5 / 25.0 kHz Analog, and 12.5 kHz DMR Import/Export
Enhanced CPS allows direct input and export of channels, digital IDs and talkgroups
Supports DMR Tier I and Tier II operation, making it compatible with DMR repeaters that utilize two-slot TDMA technology
2-pin style Kenwood K1 type earphone and speaker mic connection for a variety of accessories
IP-54 Water and Dust Resistant
Frequency range 136-174 MHz VHF/ 400-480 MHz UHF RX/TX 

   

Power output: VHF:

7/5/2.5/1W,

UHF:

6/5/2.5/1W
Up to 35 hours between charges with the supplied 3100 mAh lithium-ion battery
APRS Receive

FCC Part 90 Certified, FCC ID:

T4KD878UV

General

Frequency Range: 

136-174MHz (VHF) , 400-480MHz (UHF), TX and RX

Channel Capacity: 

4000 channels

Channel Spacing: 

25KHz (Wide Band)    12.5KHz (Narrow Band)

Phase-locked Step: 

5KHz, 6.25KHz

Operating Voltage: 

7.4V DC ±20% (2100mAh)

Frequency Stability: 

±2.0ppm

Operating 

Temperature: 

-20℃~ +55℃

Size: 

129×61×39mm (with battery pack)

Weight: 

282g (with battery pack, antenna)




Transmitting Part




Power Output: 

VHF: 7/5/2.5/1W, UHF: 6/5/2.5/1W

Modulation Limit: 

±5.0KHz@25KHz (Wide Band)     ±2.5KHz@12.5KHz (Narrow Band)

Adjacent Channel Power: 

≥70dB (Wide Band)     ≥60dB (Narrow Band)

Hum & Noise: 

≥40dB (Wide Band)     ≥36dB (Narrow Band)

Spurious Emission: 

≤-36dB (Wide Band)       ≤-36dB (Narrow Band)

4FSKDigital Modulation: 

12.5KHz(data)7K60FXD       12.5KHz(data+voice)7K60FXE

Audio Distortion: 

≤5%

Error Rate: 

≤3%




Receiving Part



Sensitivity: (12dB SINAD)≤0.25μV (Wide Band)   ≤0.35μV (Narrow Band)
Digital Sensitivity: 0.3uV/-117.4dBm (BER 5%)        0.7uV/-110dBm (BER 1%)
Adjacent Channel  Selectivity: ≥70dB (Wide Band)       ≥60dB (Narrow Band)
Spurious Emission: ≤-57dB (Wide Band)      ≤-57dB (Narrow Band)
Spurious Rejection: ≥70dB (Wide Band)         ≥70dB (Narrow Band)
Blocking: 84db
Hum & Noise: ≥45dB (Wide Band)        ≥40dB (Narrow Band)
Audio Distortion: ≤5%
Audio Power Output: 
1000mW/16Ω
Total Value: 
$856.00
Your Price: 
$314.99