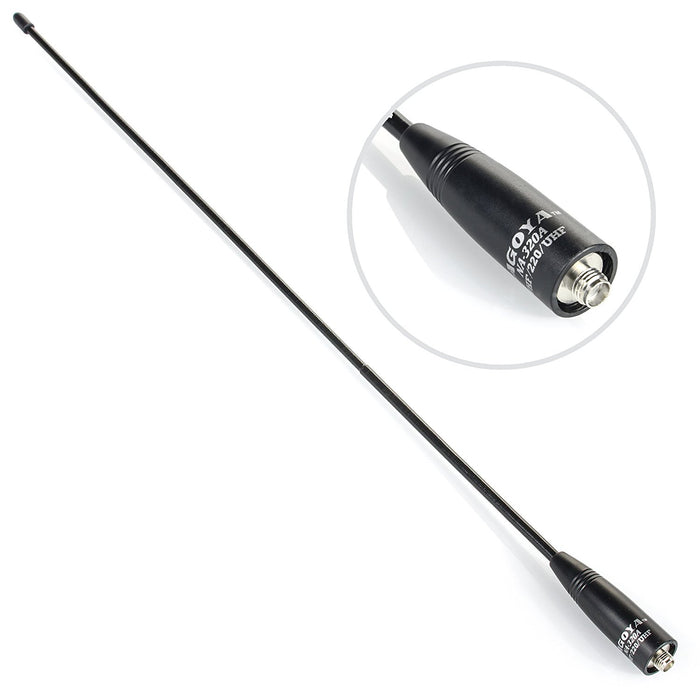 Nagoya NA-320A 17.7-Inch whip Triband HT (144-220-440Mhz) Female Antenna


Receive Hard to Hear Signals and Transmit Further.
Certified Original Nagoya Antenna NA-320A is 17.7 inches long.
May Require a Rubber spacer (included) and has an extended antenna cover to protect your radio SMA male base from the elements. 



Frequency Range: 136-174MHz, 220-225MHz, 400-520MHz.

Gain: 2.15dBi

Max power: 10 Watts

VSWR : Less 1.5:1

Impedance: 50 OHM

Connector: SMA-F

Length: 17.7 inches

Impedance: 50 OHM

RoHS Compliant

Upgrade for BCH-220, BCH-270, and AnyTone D868UV/878UV/878UVII, Baofeng, Woxuan, or similar
Nagoya antennas will increase your radio's transmitting gain as compared to the stock antenna.
In most cases: the longer the antenna, the better the antenna is capable of boosting weak frequencies and receiving difficult to hear stations.
Shorter antennas offer more portability and convenience, while longer antennas generally perform better.
Sold out
Original price
$ 25.00
-
Original price
$ 25.00