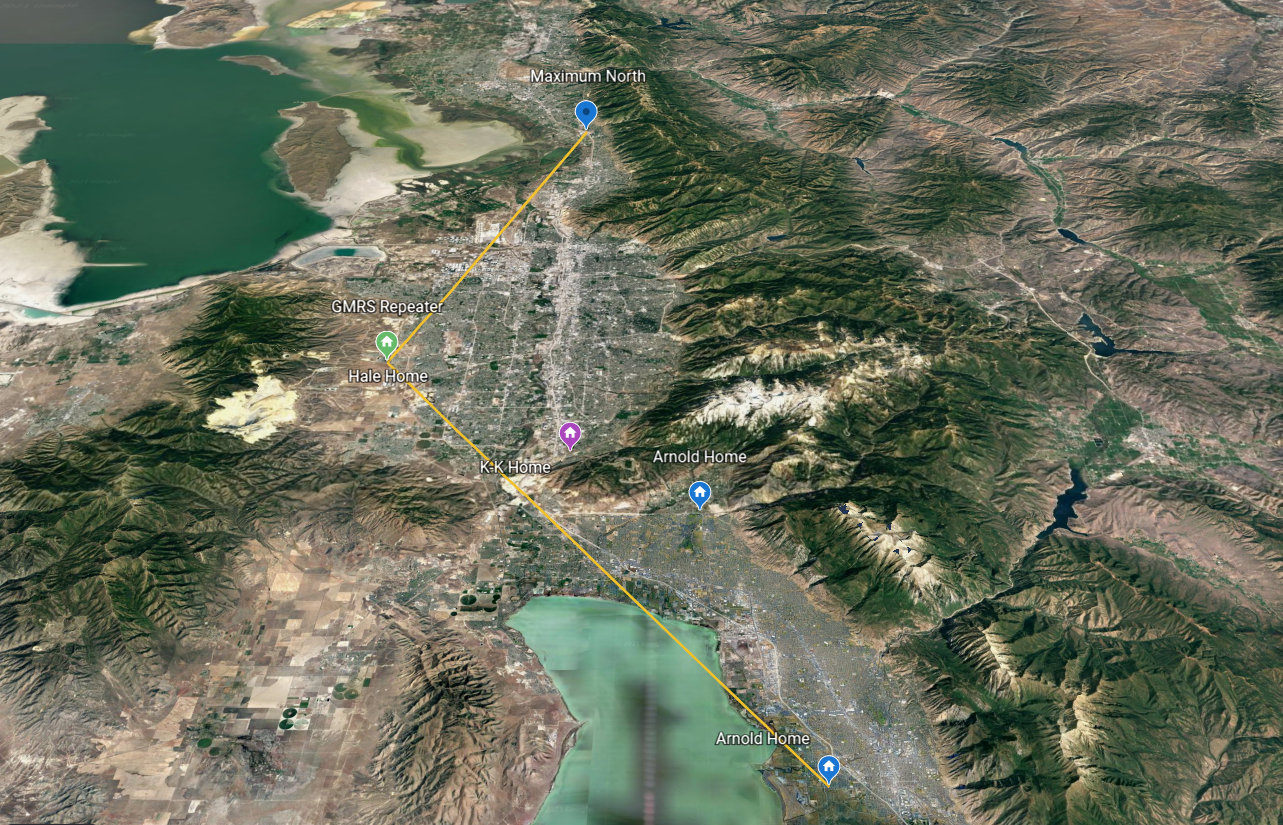 Todd WRJQ578's Repeater Success Story
We've got a great ham radio success story for you today. 

Todd WRJQ578 had a dilemma. He lives to the north of his friend Jonathan, separated by the mountains in Utah County. Because of the geography of the area, the two weren't able to get a signal through to each other.
After working with our sales team & tech support, he was finally able to get a signal working by using our BCR-40DU GMRS repeater.
Read what Todd had to say about his experience:

"Just wanted to drop you guys a quick follow-up after having used the repeater for some time now and doing extensive testing.  We couldn't be happier!  We are able to reach locations that we didn't think were possible (around mountains, distances WAY farther than we had thought were possible, etc).
Attached is a map showing where the repeater is located and distant locations where we are able to communicate.  We had hoped the repeater would reach into Provo at Jonathan's house in Utah County and it does.  We were hoping it would cover all of the Salt Lake County area and it does, it also reaches up into the Davis County area almost to Hill Air Force Base which is just insane.  It is also capable of reaching Jonathan's daughter's house in Highland in Utah County and we have no idea how it's doing this because that's going around and/or through a mountain which isn't possible.  We're happy it works there, just no idea how.
We obviously have better coverage with our 15-watt and 40-watt base stations, but we are also getting exceptional coverage with our 5-watt handheld radios as well.
Thanks for all your help in getting us up and running and for helping us identify the antenna connection issue between our Heliax cable and the antenna.  A little frustrating at first, but the effort was worth it.
You guys are amazing and the repeater is too.
Todd WRJQ578"

--------------------------------------


Stories like these are why we do what we do at BridgeCom. Our mission has always been to connect people with each other, no matter the distance.
So today, we're happy to say congratulations to Todd WRJQ578 on your repeater success! 
If you ever find yourself struggling with any ham radio issues, reach out to our excellent support team at (816) 532-8451. 
Your success is our success, so let's succeed together.

You can find repeaters like Todd is using here