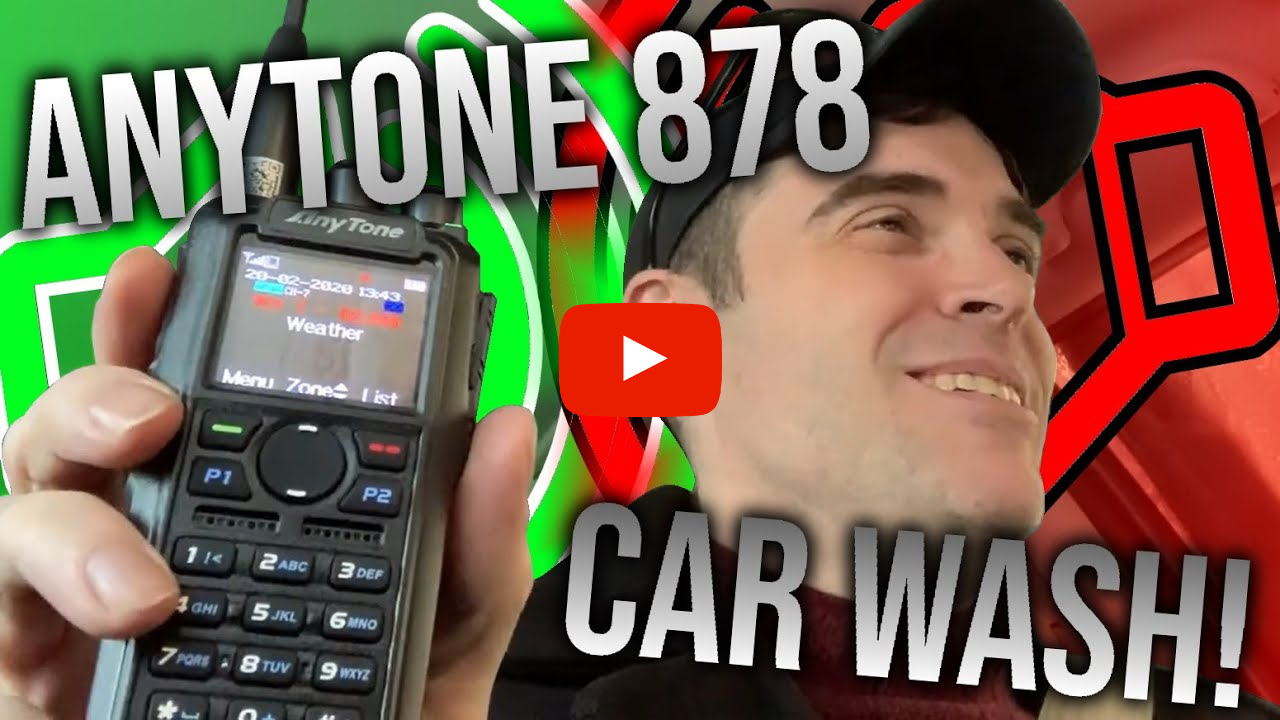 Matt Mason, N2ZQO, reviews his AnyTone 878
 A new member of the BridgeCom community shows just how crystal clear the AnyTone 878 sounds in a Car Wash!
Want to stay updated on all things BridgeCom Systems? Click the links below to join our Offical Facebook Group and subscribe to our YouTube channel.
Transcript: 
Hey, it's Matt, N2ZQO, in Chicago, here to talk about my brand-new BridgeCom Systems, AnyTone, AT-878UV, portable radio, dual-band, DMR radio. My first DMR rig, brand new to DMR, still figuring out a lot of what there is to do with this mode. I have to say most of what's in it right now are analog stations, analog signals because that's what I'm finding to be the easiest to get into the CPS, and then into the radio. Still figuring out kind of how DMR is structured, but the awesome BridgeCom university tutorial videos from our friends at BridgeCom do a really nice job of simplifying that. I don't have a hotspot yet. That'll be my next purchase from the guys at BridgeCom, so I can get on the air no matter where I am, and talk to people all over the world. That's really one of the coolest things about this radio, is the idea that all you need is this, and a little raspberry pie device tied into your home internet connection, or even your mobile phone internet connection, and it'll let you talk to Hams just about everywhere.
I do have a dual-band mobile in the car that's conventional analog, and I'm surprised that even with the external speaker I have hooked up to that dual bander, that the AnyTone sound quality is as good if not superior to what I get from that radio. And Illinois is a state where it's still legal to have two-way communication devices, such as amateur mobile rigs, in the car, and those often have public safety, police, and other frequencies programmed in for monitoring purposes, so mine does, and I've done the same with this AnyTone radio, and as you'll hear it, the radio sound that you're hearing as I'm talking, is coming from the AnyTone, which is about four inches below where this phone is mounted, and the volume control is cranked to about 40%, the little green progress bar on the AnyTone screen.
So one of the really cool things about it is the feel in your hands. I read some reviews about it. People say, yeah, this radio feels great. It's hefty, it's the right size, it's the right weight, and I thought that's kind of a funny thing to judge a radio on, but I hold it now next to my Yaesu VX-8, which I also enjoy quite a bit, but I find that radio to feel a little bit dinky, a little bit small, even without, or even with the larger battery pack installed. The AnyTone doesn't have that problem. It's a good-feeling rig to use, and the feedback from the buttons as I use them is good and firm. I can tell when I've pressed a button, even if I'm not looking directly at the rig when I do it. - [Radio] To Gary, Indiana.
- So, the weather station signals are always good, and strong, and loud here where I am, and I happened to zero in on one that's very close by, and therefore sounds really strong on almost any radio I use, but I wanna point out that the AnyTone volume control right now is set to about and it's probably drowning me out as I'm trying to record this. So here's the true test. We're in the car wash. - [Radio] Here is the forecast for the Chicago metropolitan area. (scrubbers drown out radio) Of 26, north winds 10 to 15 miles per hour. - As you might have guessed, I had to turn the volume all the way up in there, but that's not AnyTone's fault. I'm not sure any radio would've been able to be well heard in that environment. So bottom line, noise or no noise, go get yourselves an AnyTone rig from the folks down at BridgeCom Systems in the Kansas City area.
I had a little bit of a snafu, my fault, with the HamCation antennae deal. It was supposed to come with a Nagoya 701 antenna in the box. I thought it didn't, because I opened the box too fast, out of excitement, and didn't look under the packing peanuts to see that it had been dropped in there first before anything else went in. So Savannah in their shipping department was very kind and responded to a couple of emails. She was all set to send me another one, and I told her, don't bother, I found it, user error.
When I do a lot of monitoring in the car, as I often do, it's nice to have a portable rig that I can hear as well as I could hear a mobile rig with an external speaker, and I hope to very soon start programming, and using, and working some digital stations, so I can listen to more interesting things than analog, unencrypted police traffic, and weather radio. Go pick up an AnyTone, great rig.