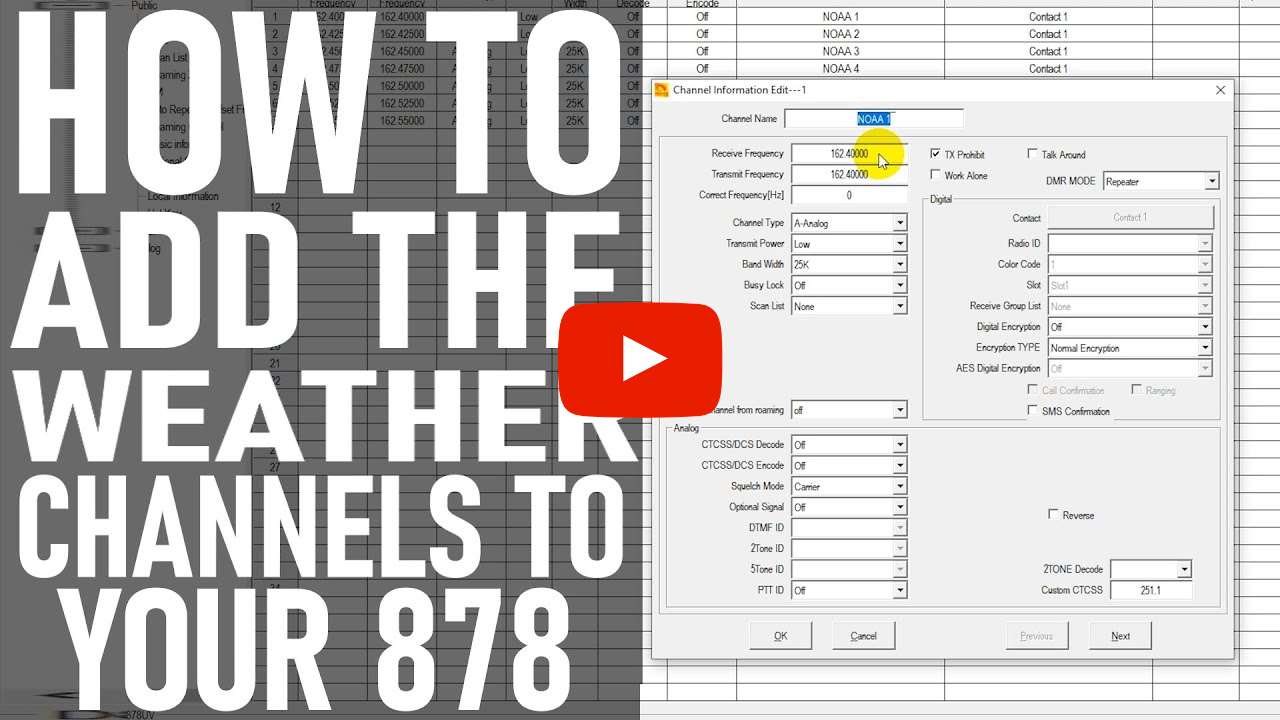 How to Add the Weather Channels to the 878
Sebastian, KBØTTL, tutorials the weather channels you can program into your AnyTone DMR and explains the proper way to enter them into your radio.
Want to stay updated on all things BridgeCom Systems? Click the links below to join our Offical Facebook Group and subscribe to our YouTube channel.
Transcript:
 This is Sebastian, KBØTTL, today we're going to be going over the weather function, that is the NOAA weather function of the 868 and 878.  There's some confusion out there right now. There are people that think that these radios actually have a weather alert function on them. Actually as of current, the 868 and 878 radios do not actually have a weather alert function. That is if there's severe weather coming in, it's not gonna beep. We can do those, we can create a zone that has all seven NOAA channels. We can add these channels to a scan list if necessary, or we can just add the frequencies in ad-hoc to the code plug, as these radios will still receive weather channels, the radio simply will not alert you of incoming weather. Let me go over to the computer now and show you what these channels would look like and what the NOAA zone would look like. With the AnyTone 878 and 868 there is no actual weather alert function. There is a way to go ahead and program in weather channels into your radio. There are seven different frequencies that NOAA Weather can use here in the United States, and they range between So there are actually seven channels total. What I'm recommending is that you program all seven frequencies into your channels. These are all analog channels, and then create a zone. Just simply label that NOAA. You can include that zone on your scan list if you'd like. Please keep in mind, weather channels are constantly broadcasting, so if you do put these on a scan list, once it reaches the weather channel, it's kinda gonna get stuck on that frequency of course until you hit the scan button again, because it is always transmitting. We're gonna look at these channel entries here right quick. I'm gonna go over the proper way to enter these weather channels. You want TX prohibit as nobody is permitted to transmit, obviously, on these frequencies here besides National Weather Service. These are actually gonna be wide band. It's always been wide band, even after the narrow mandate as this is a generally received frequency, general coverage basically. So channel type is analog, and no matter what transmit power you select here, because you're also gonna be selecting transmit prohibit. Bandwidth 25K, and it is a simplex frequency here of course, so the receive frequency and the transmit frequency are gonna be the same, but again, transmit frequency is gonna be a mute point here. So that is how you go about adding your national weather frequencies to your 878. Thank you for watching. Again, this is KBØTTL. If you liked today's video, be sure to like us on Facebook and to watch our YouTube channel.