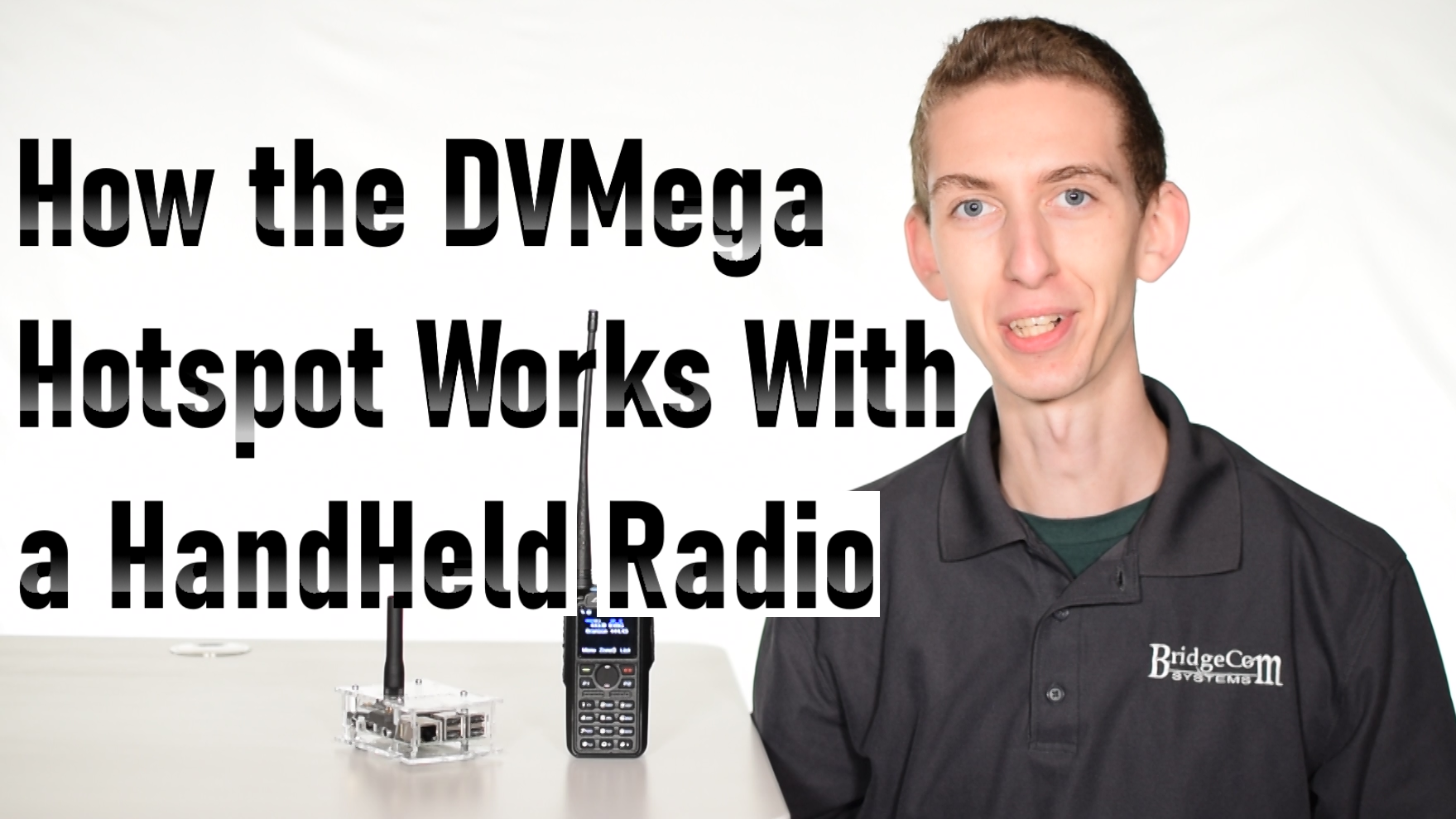 How the DVMEGA HotSpot works with your Handheld Radio
View Plug and Play Package - https://bit.ly/2S8qvUV
 Transcript:
- Hi everyone, this is Cody, W3AMG from Bridgecom Systems, and in today's video, I'm going to be showing you how the AnyTone 878 and DVMega are programmed for our plug play package, and what is programmed in each device.
Okay, so let's get started. When we at BridgeCom program up a plug n' play package, we program it up, most likely on 446.525. Now, that's the frequency that the radio communicates to with the hot spot. Now, we program that both into the hot spot and the radio. Now, the majority of the work is actually done through the radio, but the hot spot is going to open our portal to just about anywhere in the world.
So, the cool thing with the hot spot, what you'll do is go into Piestar, and set it up. Now we program in your call sign, your radio ID, and any other information you want, like your location, we'll figure out where you live, and put in your lat and long, and then we're also if you have a Wi-Fi network, you personally can do that. You can go in and program that. So, there's a few other options in there, but primarily, the hot spot's just going to have the frequency you want to talk on, as well as your DMR ID, and your call sign.
Now, the radio, that's where most of the work is done. So, we will program in, obviously, it's gonna be digital, and we're gonna program in the frequency, same as the hot spot, as well as the time slot too, and the correct color code, anything like that, but then, everything's going to be done through the radio. So, we'll add the contacts list, the digital contacts list. We put in the latest and most up to date contacts list, the entire thing, in the radio. And then, we will also put in all the talk groups. Now, the ones that are actually programmed into the setup are selectable. So, if you want to go in, and say add talk group 314, or something, like it's gonna come standard with 310, and that's primarily what I use, but if you wanted to add other talk groups, all you would have to do is go into the radio CPS and add that talk group. You just create another channel, on the same frequency, same as all of the others, and then you'd be able to add that talk group. So, really, it's not that difficult. Once you get in there and mess with it, it's really pretty easy. And you can add as many as you want. If you want to go to a different state and add, let's say, the Texas state-wide talk group, you can do it, super easy.
Now, for me, personally, the coolest thing about this plug and play package, is I can pick up my radio, turn on my hot spot, and be able to talk to someone from almost anywhere. You know, I can get people from all around the world on the world-wide talk group, and there's almost no time when I'm not able to make a contact. That's the part I enjoy most, and I know you will too. So, once again, this is Cody, W3AMG from BridgeCom Systems. If you would like to purchase a plug n' play package, click the link down below, and order yours today, 73.