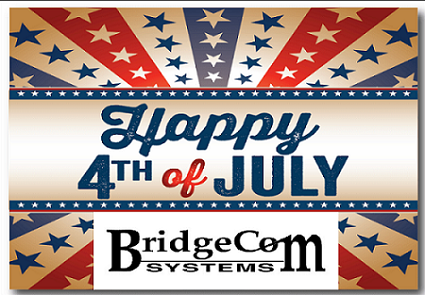 Happy 4th of July!
What are other saying about BridgeCom?
Helpful at all Times
I have one repeater in a very rf active site and it is working great in that environment. I have 5 repeaters linked at this time 4 are BridgeCom. The BridgeCom systems are almost Bullet proof and the warranty is great. I have worked with Ron and Tim at BridgeCom and they have been very helpful at all times. One of my units is a D-STAR and FM system and it has proved to be a great asset to our linked system. We are also using there ARNS internet linking system which has been flawless over the last 8 months. We had used others in the past and found the audio to be lacking to say the least. After switching over to the ARNS linking it is very difficult to tell which repeater people are using.
If I can help answer any question you might have about any of the BridgeCom products please feel free to email or call my cell.
Ron and Tim are very eager to talk to people and are always there for technical assistance. I'm sure they would like to talk with you.
Fell free to call me about the system we are using.
73,
Terry W5TWY

So easy, BCR-50V Repeater!
I kept trying to find the hard button. It is SO EASY, you just hook it up and push a few easy buttons and SNAP you are on the air. I will tell everyone I know this is the best value in Ham repeaters.
Glenn B.
Price, Features and support are untouched by others!
I purchased my first BridgeCom unit almost two years ago after building a relationship with Ron and becoming convinced he would stand behind whatever purchase I made. I was not disappointed and have stayed in contact with Ron since that time watching as the company has grown. Having need for a repeater for our transportation department there was only one option in my mind so I again contacted Ron for a UHF machine. Again, the support of the company and the quality of the product have been outstanding. Price, features, and support are untouched by others.
Keith