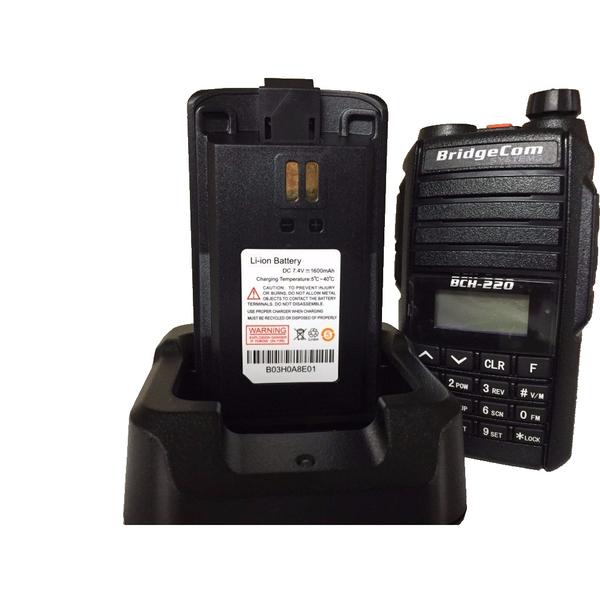 Top 4 Must Have Accessories For The BCH-220 And BCH-270
The BCH-220 and BCH-270 are fantastic radios by itself.
With these 4 accessories they turn into a super handhelds, capable of handling any situation with ease. 
Microphone 
 A good speaker microphone is a must for Increased clarity and convenience. 
The BridgeCom BCS-200 Water Resistant Speaker Mic is perfect. It even has a port to plug an earpiece into! 

Decreased wind noise even in gusty, stormy conditions. This remote speaker microphone for two way radios boast a revolutionary windporting feature that dramatically lessens background noise from high winds and other severe weather conditions.
Audio can pass through the speaker grill even when the microphone port is blocked by water. The clarity of this microphone can help public safety professionals communicate more clearly
BridgeCom BCS-200 Water Resistant Speaker Mic. 
Compatable with the BCH-220 and BCH-270.
Antenna
If you want the most signal range and clarity out of your radio. An aftermarket antenna is a must. The factory antenna on the BCH-220 and BCH-270 is pretty good, But it is still a rubber duck.  If you really want to get the maximum range you need to get a high quality whip antenna
Like the Nagoya NA-320A 17.7-Inch whip Triband HT Antenna (144-220-440Mhz) 
Compatable with the BCH-220 and BCH-270.
Extra Battery
It is essential to always have a backup battery. Whether you at a field day or in an emergency situation, you never know when you'll need it.  
BCH-220 Battery                                                        BCH-270 Battery
Programming Cable
While the BCH-220 Is VFO Programmable, A programming cable makes programming the radio much easier. The programming software is free on the support page of the website. 
BCH-220 Programming Cable.          BCH-270 Programming Cable