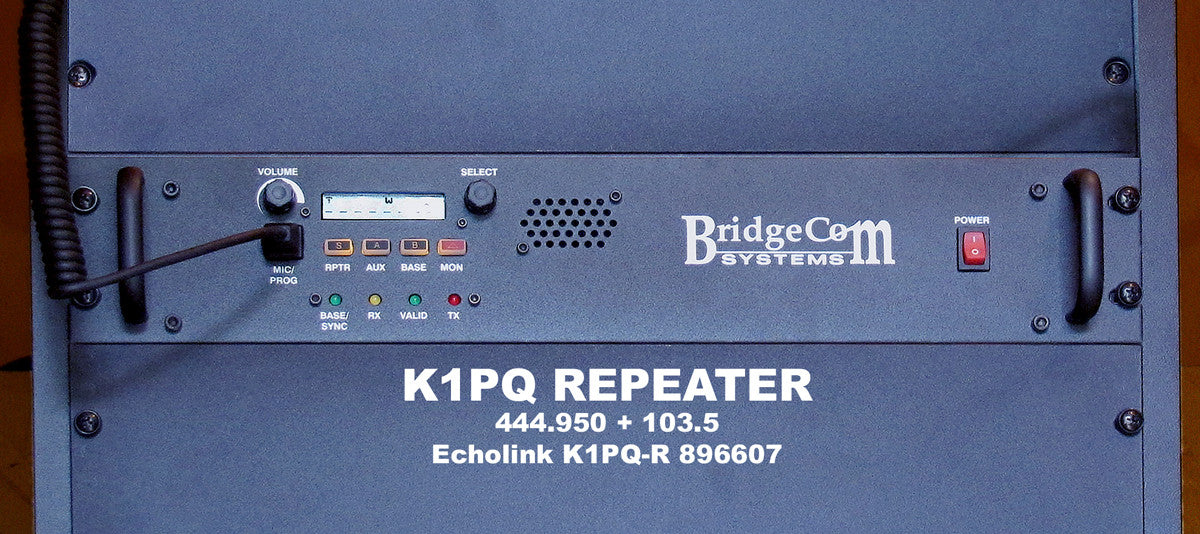 K1PQ Repeater 70cm Install and Club
Hello BridgeCom,
Our original 444.950 repeater was an old Motorola unit setup and operated by N1BUG. It worked but required too much time and attention. Our club voted to continue operations on 444.950 so we bought the BridgeCom and now operate under the club call. The repeater itself has operated without problem since installation.
We are looking for more activity on the repeater, can you help?  We operate on 444.950+ and 103.5 tone, plus Echolink K1PQ-R 896607.  Please let your audience know that the repeater is on the air and looking for users. 
Our club has offered license classes annually for years with VE testing immediately following. We produced three new Hams this year. You can find us on FB at K1PQ and Piscataquis Amateur Radio Club. We also have a presence on QRZ.com and keep a log there.
Bill, KB1WEA
Thanks for the info and pic Bill.  Hey everyone, check in on the repeater if your in the area or hit it on Echolink.  Let's see if we can make this BridgeCom BCR-40U Repeater sing!
73,
Tim, KE0GWR
Debra Kaczowski (KB1WRY) President
Bill Welsh (KB1WEA) Vice President and K1PQ Trustee
Ben Kittredge (WA1PBR) Secretary/Treasurer
Our club was founded in 1994. Population density is low here with few hams. Our membership is spread over a considerable area.
We provide communications support for local events such as the Piscataquis River Race and a dog sled race. The club also participates in ARRL Field Day. We sponsor the Three Rivers Hamfest in August.
If you live in or are visiting our area, we invite you to join us on our weekly net, Wednesday at 7:00 PM on area repeater 147.105 MHz with a 103.5 Hz tone. Guests are always welcome to attend our meetings, held the fourth Monday of the month, 7 PM at the Milo Town Hall.
Thank you for visiting and please come again...
E-mail: k1pq.parc@gmail.com
$15 Individual $20 Family
Ben Kittredge (WA1PBR) Secretary/Treasurer