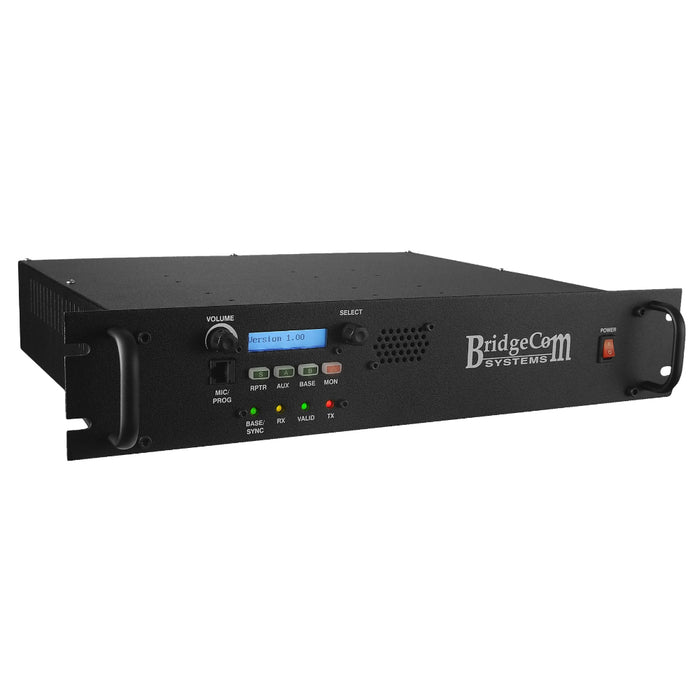 BCR Crossband Repeaters
"Very well pleased with BridgeCom repeaters and other communications products, the service and customer support, and the prices. Thanks! "-Chris D.
WAS $1499.99--NOW $1399.99!
SALE!!!

 $100 OFF! Sale Ends Soon!
PLUS...Add a Programming Kit to your cart and get it 

FREE

 with Discount Code 

FREEKIT

 in checkout!
Struggling, with your current repeater, or lack thereof? Is your club or organization having issues with the system you're currently using? Well, don't give up hope because we have the solution for you.
Introducing the ComLink™ BCR Crossband FM Repeater System by BridgeCom Systems, Inc. The BCR Repeater provides a feature rich, extremely reliable repeater/base station combo.  
ALL BCR CROSSBAND REPEATERS ARE ONE-WAY REPEATERS.  MEANING THEY ARE NOT BI-DIRECTIONAL.  For example.  The BCR-40UVX receives on UHF and transmits on VHF.  It will not receive on VHF and transmit on UHF.
Packed with loads of RF power, this dual fan-cooled unit is one of the best sounding commercial and amateur radio repeaters on the market. It's a great choice for your new repeater.
Rather than continuing to repair the old one, consider ordering a new  BCR Crossband Repeater. It's the the perfect solution for receiving on one band and transmitting on another.  
Each BCR Repeater includes FREE Programming!  Please include Tx/Rx Frequency, PL Tone In/Out, Station ID, Desired Transmit Output Power within the Special Instructions during checkout.  


Question & Answer (Q&A)
Q
- 
Can the 220 MHz repeater power a repeater controller? I know the repeater has 13.8 volt for battery backup but can i power the Arcom rc210 controller from that connection?
A
- 
Yes, you can power an Arcom rc210 from the repeaters battery back up terminals.
Q - Is the insertion very low say 1.2 db or 1.5 db?
A - The insertion is 1.4 db. So very low.


Features
6 Options: U-V, V-U, U-220, 220-U, V-220, 220-V
Frequency Ranges Available: VHF(136-174 MHz), 220 (222-224.95 MHz), UHF(400-470 MHz or 450-520 MHz)
Designed and

assembled

in the USA

2 - year warranty

Windows® Based Programmer (Sold Separately)

Built-In 11.2A Power Supply

Battery Backup with Built-in Charging Circuit

Dual Cooling Fans

Front Panel Speaker

25-pin Accessory Connector

Adjustable Squelch

12.5 kHz/25 kHz Channel Spacing

Over-the-Air Programming and Maintenance via DTMF Tone Sequences

Built-in station CWID - Morse rate programmable 10-25 wpm

The MAX TX POWER when transmitting 50 Watts (VHF) is ~9 Amps

Quiescent draw is around ~250mA

FREE Initial Programming
Chat with us online or give us a call us at (816)-532-8451 if you have any questions.
Original price
$ 1,399.99
-
Original price
$ 1,399.99