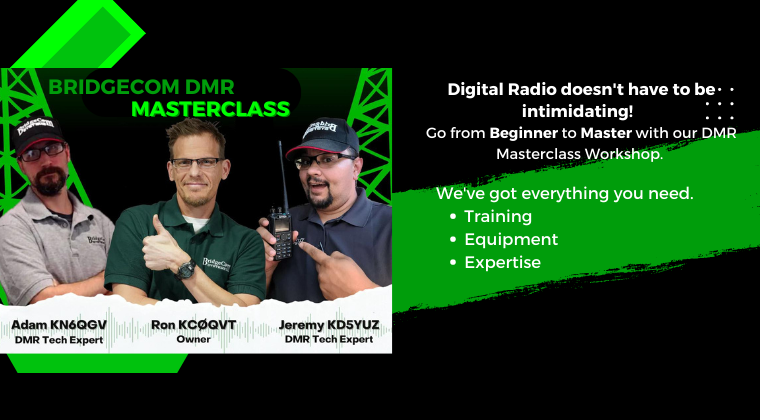 DMR Workshop 2 - October 2022
Save

0

%
Save %
Original price
$ 47.00
-
Original price
$ 47.00
"I was able to attend the very first DMR Masterclass Workshop sponsored by Bridgecom. The hosts of the show Adam KN6QGV and Dan N0REY provided a lucrative 24 page PDF document of notes about the content to assist and allow users to reference later. I stayed until the very end of the presentation which lasted about 3 hours and 20 minutes. I look forward to future classes where the DMR continues to educate NOOBS and experienced ham operators alike.
I was able to take away the GPS and APRS data from this first session to immediately get on the air with my Base station(578UVIII Plus) and handhelds (878UVIIPlus) now report my APRS data/position. Thanks again Adam and Dan for a great job and presentation. (P.S. - Don't forget Jeremy (The General *****) for all of his knowledge and help)." -Richard - KA3JCA
During this Masterclass, we'll help configure any DMR equipment you have. By the end of this session, you'll know how to setup your radio, hotspot and connect to your local repeater, and you will also learn to use SMS, APRS, & GPS.