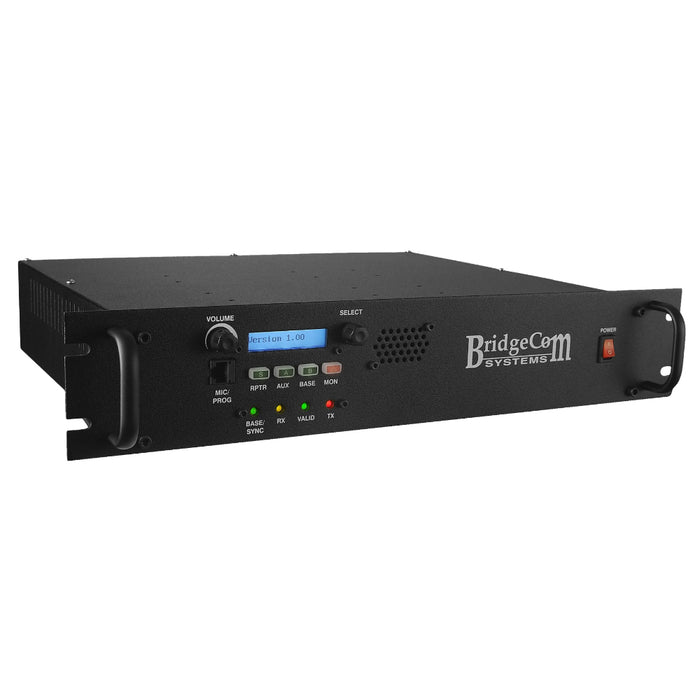 BCR-50DV (136-174 MHz) VHF Repeater with BCD-150 Duplexer
"Our new 2-meter repeater system is up and running, and we LOVE it. Easy to install, really good coverage. Our ARES Group is impressed and very pleased to have such a good system. I would highly recommend BridgeCom to anyone. Very polite, very good service, and great equipment."  -Howard K., BCR-50V Customer

"Out performs all our other commercial repeaters.... and much less trouble setting up. Our DMR repeater is working perfectly. We are planning now to replace our commercial Vertex with another of the BridgeCom repeaters." - James Carr - KC4MHH
 PRE-PROGRAMMED TO YOUR SPECS AT NO ADDITIONAL CHARGE!
Introducing the BCR-50V Repeater System by BridgeCom Systems, Inc. The BCR Repeater provides a feature-rich, extremely reliable repeater/base station combo.
Perfect solution for a primary or backup repeater for

 

amateur radio clubs, A.R.E.S., and R.A.C.E.S.
Popular for emergency management

 

personnel where reliability is a must.
Used for both commercial systems and

 

government agency

 

applications.

The BCR-50V is Digital Mode Ready!

Packed with loads of RF power (50 Continuous Watts)
Dual fan-cooled
One of the best sounding commercial and amateur radio repeaters on the market. 
Each BCR Repeater includes FREE Programming!  Please include:
Tx/Rx Frequency,

PL Tone In/Out,

Station ID,

Desired Transmit Output Power
 Need help with this? Let us know! 816-532-8451
Original price
$ 1,899.99
-
Original price
$ 1,899.99